Posters COSI 2005
Drs. Gabriëlle van Benthem
Polymer Technology Group BV Eindhoven, The Netherlands
Title Poster
We translate science into usable technology!
Summary
Polymer Technology Group Eindhoven BV (PTG Eindhoven) is a company which is able to support you in the field of plastics in the broadest sense of the word. Five years ago PTG Eindhoven was founded under the name of Kunststoffenhuis, as part of the Polymer Technology research group at Eindhoven University of Technology (TU/e). In 2005 PTG Eindhoven became an independent company within the TU/e Holding. Through this set up, PTG Eindhoven has access to all the facilities and expertise of the TU/e. In addition to the full- and part-time employees, PTG Eindhoven cooperates with a wide ranging network of specialists/consultants, who are available if needed PTG Eindhoven also acts as an intermediary between the client and the various institutions in the Eindhoven region, such as the Eindhoven University of Technology (TU/e), the Dutch Polymer Institute (DPI), Fontys University of Professional Education and TNO Industry.
Analysis and advise
Imagine your plastic product suddenly fails. You would like to know what polymeric material is used for your product. You want to select the best material for a new product. Or you want to pursue a dialogue concerning an idea for a product or production optimization. For all these questions you can turn to PTG Eindhoven. PTG Eindhoven will work together with you to analyse the problems which need to be resolved and the techniques most suited to reach a solution.
Contract Research
During the past decade the plastics industry, and particularly the raw material producers, have drastically reduced their long term corporate R&D facilities and have committed the long term fundamental research to universities and institutes, such as the Dutch Polymer Institute (DPI). Other aspects include producers who have strongly reduced technical support to the many processing companies, resulting in the absence of much needed feedback. PTG Eindhoven undertakes to fill this void by giving support and is therefore able to help solve all questions from SMEs. Besides this, we also receive increasing numbers of requests for projects, in the form of contract research with a finite duration, from the plastics producing industry.
Project Management
From the Dutch and European government financial backing is available in the form of subsidy (Framework 6, CRAFT, etc...). However, to qualify a project for these subsidies, a great deal of paper work is required. Most companies, in particular companies from SMEs sector, do not have the time or the man-power to arrange this administration in the correct format. PTG Eindhoven can do this for you.
Franco Busato
IRFAB Chemical Consultants, Belgium
Title Poster
Trends in environment-friendly coatings in Europe 2007 – 2012: How prepared is the European paint industry to meet the 2007 SED deadline? A 'VOC'- Voice-of-the-Customer' Analysis
Summary
As the 2007 deadline for compliance with the European Solvent Emission Directive comes closer, the coatings industry is subject to increasing pressure. Demand is re-directed to Waterborne, Powder, High Solids or Radcure Coatings, fostering development of new innovative products and processes involved in paint application activities. These activities will also be influenced by the new EU Chemical Policy. In this paper the results will be discussed of a large interview panel of paints and coatings users in the different market segments, including automotive OEM, ACE, household appliances, general metal, wood, plastics etc., in Europe and their readiness for the 2007 SED deadline. Specific industry cases will be described where changes in paint technology have occurred with description of the results in terms of performance, cost etc. Additionally, a comparison of environmental regulations in North America and Asia will be examined.
Biography
Franco Busato is a Managing Partner of Irfab Chemical Consultants, based near Brussels, Belgium. Franco Busato has an MSc degree in chemical engineering with a major in polymer chemistry from the Technical University in Delft, The Netherlands. After several years working as a Marketing Manager in the Resin industry and as a Technical Director in the Paint industry, he founded his own consultancy in 1971. His main field experiences are Market and Technology Assessment of Coatings and related Raw Materials, Long-Term Forecasting of Coatings Technologies. Main activities of Irfab concern strategic planning related to new paint technologies and environmental issues, competitive analysis and M&A.
Tamara Dikic
Eindhoven University of Technology, The Netherlands
Title Poster
Self-Replenishing low-adherence coatings!
Authors
T. Dikic, W. Ming, R. van Benthem, G. de With
Summary
Reducing adherence between a coating surface and contaminants can be brought up by lowering surface energy of the coating, rendering the surface easily cleanable. In our laboratory we have successfully developed low surface energy cross-linked films via surface segregation of fluorinated species during film formation. However, the very thin fluorine-enriched layer might be too vulnerable to sustain various mechanical forces (scratch, rubbing, etc.), therefore the low adherence character of the films may be compromised and may disappear eventually.
The objective of the current project is to sustain the water/oil repellency of the coatings, making the low-adherence character self-replenishing. Our approach to distribute long fluorinated dangling chains relatively homogeneously in the coating network. In case of the surface damage that leads to the loss of the fluorinated tails originally sitting at the surface, due to the mobility of fluorinated tails and the flexibility of the network, the fluorinated tails from sub-layers will be able to reorient themselves to minimize the air/film interfacial energy.
Z. Knésl
Institute of Physics of Materials, Academy of Science Czech Republic, Czech Republic
Title Poster
Resistance of coated structures to failure
Authors
Z. Knésl, L. Náhlik
Summary
Protective coatings are frequently used to increase service life of engineering structures. If the coating fails, it may cease to provide its protective function and the intended purpose of the coating is not achieved. Furthermore, the existence of cracks in the coating with their crack tips at the interface represents a singular stress concentrator and can, in some cases, cause the failure of the whole structure. The aim of the contribution is to estimate how the coating crack with its tip at the interface influences the substrate failure. The problem is studied under assumptions of linear elastic fracture mechanics and the corresponding calculations are performed by finite element method. It is shown that in the cases of stiffer coating on more compliant substrate (as a consequence of the elastic mismatch) the through coating crack represents a dangerous stress concentrator and the critical stress for substrate failure decreases. The influence of coating cracks with their crack tip at the interface on substrate failure must be handled very carefully. Estimations of the service life of coated structures (for both static and cyclic loading) neglecting this fact, could lead to non-conservative values and thus cause unexpected failure.
Przemyslaw Malanowski
Eindhoven University of Technology, The Netherlands
Title Poster
Weathering and durability of industrial coatings
Authors
P. Malanowski, R. van Benthem, J. Laven, G. de With
Summary
Introduction
In weathering conditions many factors simultaneously influence the aging of polymeric materials. UV radiation, heat (high and low temperature), moisture can cause changes in chemical structure of macromolecules. It leads to loss of physical properties of plastics (cracking, gloss loss, blistering) and reduction of their life-time. In order to improve polymer photostability there has been a very big effort during the last 30 years to understand the mechanisms involved in photodegradation and environmental aging. Polymeric materials are modified and stabilized by numerous compounds but sooner or later are degraded. The resistance of industrial coating to outdoor exposure is an extremely important topic. We will be able to improve weathering resistance of polymers by the discovering and understanding the critical degradation mechanism of this material.
Experimental
Photodegradation of model polyester based on neopentyl glycol and isophthalic acid has been investigated. Since polymer aging in natural condition is a complex and complicated process (influence of UV-radiation, temperature, humidity) in this work polyester coating was exposed to UV radiation in different specific atmospheres (dry air, wet air, dry nitrogen, wet nitrogen) to distinguish between: photooxidation, photolysis, hydrolysis etc. Changes in chemical structure of molecules were investigated by ATR–FTIR, GPC, and MALDIToF MS. The following conclusions were obtained under the experimental conditions: 1) Photodegradation in air atmosphere causes break-down and generation of both C=O, OH/OOH groups on polymer surface, as detected by ATR-FTIR spectra, while degradation in nitrogen was hardly noticeable by ATR-FTIR 2) GPC results show changes of molecular weight of polyester after irradiation 3) MALDI-ToF MS exhibits appearance of degradation products. 4) Water doesn't have affect on degradation process. It has to be reminded that all of these results were obtained in highly accelerated degradation tests.
References:
J. F. Rabek, Polymer Photodegradation – Mechanisms and Experimental Methods, Chapman & Hall, London 1995.
A. Rivaton. Polymer Degradation and Stability 41 (1993) 297-310.
P. Gijsman, G. Meijers, G. Vitarelli, Polymer Degradation and Stability 65 (1999) 433-441.
J. McDaniel
Reactive Surfaces Ltd. USA
Title Poster
Enzyme based reactive coatings for chemical warfare and pesticide remediation
Authors
C.S. McDaniel, J. McDaniel, M.E. Wales, J.R. Wild
Summary
Enzymes sequestered in paints and coatings have the potential to provide the fastest decontaminating solid catalysts yet identified. We report here the design and characterization of biocatalytic latex coatings capable of remediating organophosphorus (OP) compounds, which includes many of the commonly used pesticides, as well as the most dangerous chemical warfare agents. The strategy for manufacture of these biocatalytic coatings involves the coupling of the power of biology with off-the-shelf, environmentally friendly coatings. The process involves an adequate entrapment of the biocatalyst in a latex coating, verified by analysis of the kinetic parameters for the enzyme in the coating. The last step in biocatalytic coating synthesis is an estimation of the enzyme 's operational and storage stability, particularly in the presence of environmental agents. Given our pre-existing base of knowledge of the stability and activity of both native and modified organophosphorus hydrolase (OPH, EC 3.1.8.1), our initial model reaction in the development of catalytic coatings was the OPH-catalyzed hydrolysis of paraoxon, demeton-S and diisopropylfluorophosphate. Success with these enzyme-substrate pairs will be used as the basis for the incorporation of other biocatalysts into films and coatings.
Carmen Pérez
University of Vigo, Spain
Title Poster
The influence of Galvanized Surface State on the Duplex Systems Behaviour
Authors
I. Cabanelas, A. Collazo, M. Izquierdo, X.R. Novoa, C. Peréz
Summary
Painted galvanised steel (duplex system) is a common way of protecting metallic structures. As it is known, the corrosion protection efficiency is strongly dependent on adhesion strength at the paint/zinc interface. Good adherence makes more difficult the aggressive species to reach the metallic substrate and, as a consequence, the corrosion process is avoided or, at least, delayed. Adherence is directly related to surface roughness; however, particularly pronounced roughness could lead to local differences in the coat film adhesion to the metallic substrate and thus could promote corrosion on the metal. The present work deals with the influence of the galvanised surface roughness on the duplex system behaviour using Electrochemical Impedance Spectroscopy (EIS) technique. Three types of metallic surface conditions were employed: fresh galvanised steel (Ra = 0.9 µm) and aged galvanised steel with two weathering degress (Ra = 2.6 µm and Ra = 5.1 µm). The galvanised steel specimens were painted by brushing. The primer coat was based on a polyamine epoxy resin pigmented with aluminium to high solid content (82%). The average thickness was 100 µm. The topcoat was an environmentally friendly paint, based on a water-borne acrylic urethane resin and pigmented with Micaceous Iron Oxide (MIO); the solid content was about 65% and the average thickness was 50 µm. The impedance results are markedly different depending on the weathering degree. The results suggest that certain weathering degree is necessary for getting good protection efficiency.
References
J.F. Malone. Mater. Perform., 31 (1992) 39.
P.R. Seré, A.R. Armas, C.I. Elsner, A.R. di Sarli. Corros. Sci., 38 (1996) 853.
A. Collazo, C. Pérez, M. Izquierdo, P. Merino. Prog. Org. Coat., 46 (2003) 197.
B. del Amo, L. Véleva, A.R. di Sarli, C.I. Elsner. Prog. Org. Coat., 50 (2004) 179.
A. Petrenko
Akzo Nobel Dekor, Russian Federation
Title Poster
Optical and mechanical properties of the water-borne decorative coating influenced by the partial pigment substitution
Authors
G. Aleshina, A. Petrenko, A. Kehman, G.Ceytlin
Summary
In the process of improving coating cost-efficiency the partial pigment substitution with inorganic fillers remains a time-honoured but still most effective tool of reaching a broad price-property compromise, especially in the case of white architectural paints which are comparatively low demanding in their functional properties. In this work we report a systematic study of the partial substitution of the rutile titanium dioxide with a variety of calcium carbonates and silicates in preparation of the decorative white water-borne composition with the PVC of ca. 41%. Through detailed studies of the applied film gloss, hiding power and reflectance we estimated common optical effects of the filler particle size, morphology and concentration. The in-depth SEM analysis allowed speculations that filler influence on the optical properties of the paint film is mostly governed by the particle tendency to form agglomerates with titanium dioxide. It was also attempted to predict optical brightness of the filler pigment mixture using Kubelka-Munk theory and assuming K/S additivity. The calculations were in good agreement with experimental data. Mechanical stability of the filler containing coatings in comparison to that of the pigment only composition was estimated by testing scrub and weathering resistances. General conclusions were supported by the SEM micrographs.
Francesca Scaltro
Eindhoven University of Technology, TheNetherlands
Title Poster
Durability of Metal Oxide / Coating Interfaces
Authors
F. Scaltro, R. van Benthem, J. Laven, G. de With, J. Maas
Summary
Introduction
Good appearance and performance properties of a coating are very important. According to this it is important that these qualities can be maintained intact as long as possible for any coating that is intended for outdoor use.In most coating applications interfaces exist between the organic binder material and metal oxide layers or particles .It is well known that metal oxides can be highly photoactive and therefore can play a major role in the degradation of coating layers they are in contact with.As of degradation.
Material and Specimen Preparation
Crosslinked films of PEGDA (Mn ~ 475, 1% of photo-initiator) either or not with tin oxide or antimony doped tin oxide nano-particles are applied on glass and silicon wafers.The samples are exposed under UV light under different atmosphere conditions: dry air, dry nitrogen, wet air and wet nitrogen.The samples have been monitored by means of ATR-FTIR, transmission FTIR, UV-VIS, weight loss.
Results and discussion
In fig.1 are shown spectra of crosslinked PEGDA without particles treated in dry air and dry nitrogen.After irradiation the changes in the samples are different. In the sample treated in N2 the OH- band (~3500 cm-1) increases in intensity while for the samples treated in air the same band is subject to an extensive broadening.Also in the area of the C=O band (1700 cm-1) there is the appearance of shoulders at both samples treated in nitrogen or air. In the sample treated in air there is also a pronounced shift of the maximum of the C=O to lower wavelengths.The two different behaviors are related with the possible reactions involved in the different conditions.
In nitrogen the system can undergo chain scission, hydrogen abstraction, cross-linking. In air the radicals formed can react with oxygen and give peroxide radicals. Once this species are formed a wide number of reactions can take place.
The thickness of the "reactive layer" depends on how deep the oxygen can penetrate in the system. The ATR-IR spectra clearly show the role of oxygen in the degradation process however, the complicated structures involved makes not easy to identify the exact chemistry involved. We have measured also the mass loss as a function of time of films made of PEG 3000 on different metal oxide substrates and treated under different environmental conditions. It is evident from figure 2a that there is a negligible weight loss of PEG applied on flat substrates treated with UV light under dry nitrogen. On the other hand samples treated in air lose weight easily after a relatively short time: the coating on tin oxide much faster than the one on silicium oxide.
The same experiments were performed under nitrogen with different humidity levels. The weight loss rate in this case is found to be dependent on the humidity level of the atmosphere. Higher humidity causes higher and faster weight loss.
Conclusions
The presence of oxygen greatly affects the degradation process. Tin oxide promotes photo-catalytic degradation resulting in a fast degradation. Hydrolysis speeds up the degradation process in PEG films.
References
[1] J. F. Rabek, Polymer photo-degradation, mechanism and experimental methods, Chapman & Hall
[2] O. Chiantore, L. Trossarelli, M. Lazzari, Polymer 41 (2000) 1627-1668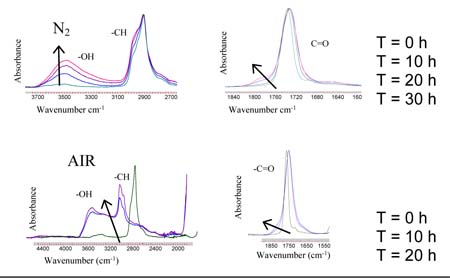 Fig.1- ATR-FTIR of crosslinked PEGDA treated in N2 and in air after different exposure times.


Fig.2a - Mass coating (%) of PEG films treated in N2. Fig.2b- Mass coating (%) of PEG films treated in air.
Kurt P. Scott
Director, Research & Development, Atlas Materials Testing Technology LLC, USA
Title Poster
Innovation to Measure In Situ, Real-time Specimen Temperatures in Laboratory Weathering Devices
Authors
Kurt P. Scott, Zhijun Zhang, William Buttner
Summary
Consumers have a great deal of financial and emotional investment in the coatings applied to their automobiles and buildings, for example. The aesthetic and protective aspects of coatings are expected to endure for many years. Coatings manufacturers are constantly challenged to satisfy appearance demands, both for initial "showroom" appeal, as well as for the in-service maintenance of original appearance. Durability tests, and in particular, weathering tests, become a critical part of meeting the customer's long-term expectations. Consequently, improvements in laboratory weathering instruments are mandatory to keep abreast of demands. In weatherabilty testing of coatings, the importance of light quality and specimen temperature is well understood and broadly documented in the literature. However, current laboratory instruments are incapable of directly providing this critical test information. This paper reports on innovations that enable weathering instruments to address this issue by making it possible to conduct tests in which test conditions and specimens are simultaneously characterized in unprecedented ways.
Daniela Senatore
Eindhoven University of Technology, The Netherlands
Title Poster
Encapsulation of powder coating cross-linker
Authors
D. Senatore, R. van Benthem, J. Laven, G. de With
Summary
Introduction
One of Powder Coating's future trends is towards formulation of low curing temperature coatings systems (lower than 140°C), that can be used for coating heat-sensitive substrates like wood, MDF and plastics. However, a lower curing temperature means that, without special tricks, such a powder coating formulation is not stable regarding the storage at about 30°C and mixing temperature (typically at 70-110ºC). Our approach to overcome this paradigm is:
to encapsulate one of the reactants of the powder coating formulationthe cross-linker
to mix the encapsulated cross-linker with the resin, without breaking the capsules
to de-encapsulate it as response of increasing the temperature, so as to allow molecular mixing of the ingredients and therefore cure the coating.
In the present work, preliminary results on the encapsulation step are reported.
Experimental procedure
Spray-drying technique was chosen, because it is fast, environment friendly and easy to scale-up. The experiments were carried out using a Lab Spray-Drier , BÜCHI 290. An oil-based cross-linker was emulsified in water by phase inversion in presence of a nonionic surfactant. Such oil-in-water emulsion was mixed with an aqueous polymer solution in ratio of 1:1. The droplet size distribution was measured by Light Scattering (LS-Coulter 230). The mixture was spray-dried. The spray-dried micro-particles were characterized by using SEM (JEOL-840A), LS (Coulter S230), DSC (PE-Pyris1), TGA (PE-Pyris 6) and 1H-NMR (Varian 400MHz).
Results and discussion
SEM analysis shows that the micro-particles are polydispersed and their surface is free of cracks, although dents, due to shrinkage during drying, are present (fig.1)
The polydispersivity of the micro- capsules is confirmed by LS analysis which provides a particles size distribution centered around 6 µm. After spray-drying, the micro-particles keep a residual amount of water of about 6% on total powder weight, as confirmed by TGA measurements. Such water content lowers the Tg of the polymeric shell to 56 ºC, according to DSC measurements, which also shows the presence of thermal transitions (-70ºC +10ºC), due to the cross-linker. Although, the exact nature of those transition is not understood, DSC measurements prove the presence of the cross-linker in the micro-particles (fig.2). 1HNMR analysis confirms that the micro-particles contain the polymer , the cross-linker and surfactant. We are working on evaluating the exact amount of encapsulated cross-linker.
References
Re M. "Microencapsulation by spray drying", Dry Technology , 16(6), 1195-1236 (1998) Thies,C. "Encyclopedia of Chemical Science and Engineering"; Wiley, NY,1987;vol 9, 2nd edition, pp 724-745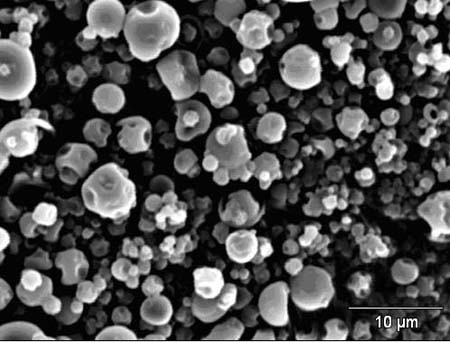 Fig.1 Spray-dried particles (SEM, 15kV)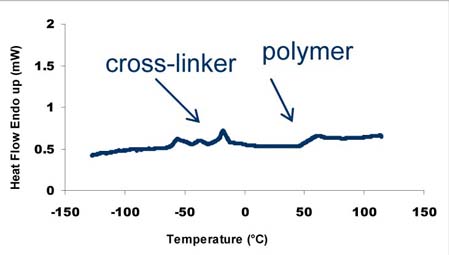 Fig 2. Spray-dried particles (DSC, heating rate 10 ºC/min)
Willem Jan Soer
Eindhoven University of Technology, The Netherlands
Title Poster
Waterborne anti-corrosion coatings for magnesium surfaces
Authors
W. J. Soer, L. Klumperman, W. Ming, C.E. Koning, R. van Benthem
Summary
Magnesium alloys have a potential to be used as a weight-saving material in different applications. However, magnesium is very prone towards corrosion. In this project an organic coating is being developed that combines adhesion towards a metal substrate, barrier property for water and oxygen diffusion, and water repellency. Furthermore, the coating is water-borne, making it an environmentally friendly system. The polymer used in this system is poly(styrene-alt-maleic anhydride) synthesized by reversible addition-fragmentation chain transfer (RAFT) polymerization, allowing good control over the molecular architecture and molecular weight. The aqueous dispersions were obtained by partially ring-opening of the anhydride by NH3. These self-emulsifiable polymers can react with amine functional molecules, ultimately leading to hydrophobic imides. The material properties (Tg, hardness etc.) can be modified by introducing different groups on the anhydride. Furthermore, a difunctional amine can be used as a crosslinker. We found that with a specific diamine the minimal temperature at which the crosslinking of the polymer takes place could be lowered from 150 °C to 100 °C. The films that were formed from a dispersion containing 0.6 equivalent of amine (compared to anhydride) showed good chemical resistance, combined with good film forming properties and adhesion.
Di Wu
Eindhoven University of Technology, The Netherlands
Title Poster
Topologically structured, superhydrophobic thermoset coatings
Authors
D. Wu, W. Ming, R. van Benthem, G. de With
Summary
The development of superhydrophobic coatings (water contact angle above 150º) is driven by the promise of self-cleaning properties of such coatings, which are of enormous industrial potential. Nature has developed such self-cleaning surfaces, for instance the sacred lotus leaves. Generally, the super-hydrophobic surface is obtained by the combination of a hydrophobic surface and a high surface roughness. In our laboratory we have successfully developed low surface energy cross-linked films via surface segregation of fluorinated species during film formation. The addition of a small amount of fluorinated species could reduce the surface energy to 10-20 mN/m. In this project, we will impose a roughness in the scale of 0.1 – 1 μm to the surface, rendering the surface superhydrophobic. Correlations between surface wettability and surface chemical composition/topology will be established.
Ming Yuan
Eindhoven University of Technology, The Netherlands
Title Poster
Tunable conductivity levels in nano filler / polymer matrix composites
Authors
Ming Yuan, Jose Brokken-Zijp, Laura Huijbregts, Xiaoniu Yang, G. de With
Summary
Recently it has been shown that conductive filler/polymer matrix nano-composites with a very low percolation threshold can be made when nano particles such as electrical grade Carbon Black (CB), Phthalcon 11 are used as conductive filler. In these and other conductive filler/polymer matrix composites an initially steep increase in volume conductivity (σ) occurs at filler levels just above the percolation level. At larger filler amounts the increase in σ observed with a certain increase in filler concentration becomes lower and levels off to a level (σmax) which hardly varies with filler amount any more. The σmax values found in these composites are, generally, much lower than the conductivity of the filler itself and may also depend strongly on the choice of polymer matrix and processing conditions. These observations are generally explained by pointing to the difference in conduction mechanism and to the influence of isolating layers between the separate conductive particles in the matrix. Unfortunately, experiments to prove these observed variations in a (semi) quantitative way are lacking and possibilities to tune this σmax to the level needed for specific applications are not known at this moment.
The approach to follow for solving (part) of the above described problems is to study the conduction mechanism of several well-defined conductive nano filler/polymer matrix composites, to determine the main factors, which are responsible for σmax in conductive filler/polymer matrix nano-composites with a very low percolation threshold and find ways to tune this property so that the level needed for a specifc application can be realized.
In our research, Phthalcon 11 is used as conductive filler since it can offer a number of advantages above other conductive additives. We have synthesized Phthalcon 11 with different particle sizes. In this poster the synthetic routes to make Phthalcon 11 with different particle sizes as well as the analysis of these particles will be discussed.