Speakers COSI 2005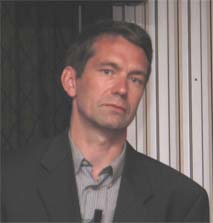 Dr. Martin Bosma
Akzo Nobel Research & Technology Chemicals, Department of Polymer Technology, Arnhem, The Netherlands
Title lecture
The role of sag control agents in optimizing the sag/leveling balance
Authors
Martin Bosma, Richard Brinkhuis, Bart Reuvers
Summary
In order to obtain glossy coatings with a high quality appearance it is necessary that surface irregularities created during application level-out sufficiently while sagging problems (tear or curtain formation) do not occur. This paper starts with a quantitative description of the role of the rheological properties of the wet paint on the degree of sagging and leveling using a theoretical model. From this theory, it can be shown that the sagging tendency of paints during the flash-off period is best characterized with a rheometer by using creep tests. Although tests done with a rheometer provide valuable rheological information, they cannot fully predict the sag/leveling behavior of paints as e.g. the role of solvent evaporation and the effect of high-temperature baking is not determined. For this reason, we have recently developed the so-called falling wave method with which sagging and leveling of wet paints can be quantitatively determined during drying and curing.
It is shown that thixotropy of the paint can be very useful in improving the sagging resistance and in widening of the application window. Thixotropy can be introduced in the paint by addition of e.g. sag control agents. Various experimental examples of the beneficial use of sag control agents on the sag/leveling behavior of paints will be given.
Biography
Martin Bosma studied polymer chemistry at the University of Groningen. In 1987 he joined Akzo Nobel where he started his working career on characterization of the mechanical properties of composites, followed by a study of the impact properties of coated engineering plastics resulting in his Ph.D. at the Delft University of Technology in 1994. After his Ph.D.-study he became project leader for the development of optical retardation foils (Twistartm) for LCD's. From 2000 he is working for Akzo Nobel Resins (now Nuplex Resins) where he is responsible for characterization and optimization of the rheological behavior of paints and mechanical properties of coatings. He is studying a/o the role of rheological properties of paints on their sag and leveling behavior.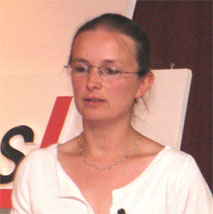 Valerie Carlier
Coatings Research Institute, Limelette Belgium
Title Lecture
Plasma polymerisation techniques; promising possibilities for the paint industry
Authors
V. Carlier, F. Renaux, A. Azioune
Summary
Plasma techniques are focusing an increasing interest from industries. It is a powerful and versatile method that covers a wide spectrum of applications like welding, cutting, cleaning, disinfecting, surface modifications … The surface treatment field is rising and many papers are dealing with degreasing of metallic substrates, modification of polymer surfaces, activation of interfaces, improvement of adhesion … The fundamental understanding of plasma mechanisms is also well documented but still under investigation all around the world.
Very thin layers with controlled composition can be deposited through plasma polymerisation. The aim can be either surface preparation before painting, or deposition of a protective coating against corrosion. There are lots of applications, some are already commercially available, and others are only emerging.
This lecture proposes a literature overview about plasmas and plasma polymerisation and considers the opportunities of such techniques for the paint industry.
This bibliographic work is part of a collective research (ECOPO) and is supported by Walloon Region.
Biography
Valérie Carlier
Formation in chemistry at Université Libre de Bruxelles, PhD degree obtained in 2000 on the subject: "Study of the electropolymerisation and the electrochemical behaviour of poly(N-vinylcarbazole)".
Short experiences in the fields of self-assembled monolayers and ion exchange membranes for electrodialysis.
Since March 2003, in charge of research project at CoRI concerning plasma technologies as alternatives for chromated treatments and primers.
Stuart Croll
Department of Coatings and Polymeric Materials, North Dakota State University, Fargo, North Dakota, USA
Title Lecture
Statistical approaches for predicting weathering degradation and service life
Authors
Stuart Croll and Brian Hinderliter
Summary
Predicting the service lifetime of any material is very important. One of the major difficulties is relating individual, nanoscale, degradation events to the eventual deterioration in macroscopic properties. Monte Carlo simulations and the Central Limit theorem provide approaches to the kinetics of how coating topology, or bulk morphology, changes during long term weathering. Results on structural changes, from these approaches, may then be translated, via well-known models, into the degradation of gloss, fracture strength, surface wetting, color etc. Thus service lifetime may be related to composition and degradation mechanisms. Potential exists for using properties that permit non-destructive monitoring, e.g. gloss, to indicate likely changes in other properties that need destructive evaluation, e.g. fracture strength.
Biography
Stuart Croll gained a degree in physics from the University of London, then completed a doctorate in polymer physics at the University of Leeds. He first worked in England, then moved to the National Research Council Canada where he studied the residual stresses in coatings that arise during curing. After a career in the coatings industry and its suppliers, Dr. Croll joined the faculty at North Dakota State University in 2000. His research interests are concerned with the durability of polymers and coatings during weathering, film formation, colloidal suspensions, modern art conservation and nanoscale characterization of coating systems.
Prof.Dr. Christian Decker
Département de Photochimie Générale (CNRS) - École Nationale Supériere de Chimie de Mulhouse - Université de Haute Alsace - Mulhouse - France
Title Lecture
High performance UV-cures protective coatings
Authors
Christian Decker
Summary
UV-radiation curing has become a well-accepted technology which has found its major applications in the coating industry because of its unique advantages, namely, a solvent-free resin cured within seconds at ambient temperature with minimum energy consumption to produce highly resistant polymer materials. The progress recently made in the following areas will be discussed :
different types of UV-curable resins and dual-cure systems
monitoring of the polymerization process (real-time infrared spectroscopy
mechanical properties of UV-cured coatings (hardness, scratch resistance)
optical properties of a clearcoats (gloss, color, transparency)
weathering resistance of UV-cured coatings (accelerated and outdoor).
Biography
Professor Christian Decker is Research Director at CNRS and head of the Polymer Photochemistry Laboratory at the University of Haute-Alsace in Mulhouse (France). His research interests are in UV-radiation curing, protective coatings, nanocomposite materials and photostabilization of polymers.
Bart Erich
Eindhoven University of Technology, Department of Applied Physics, The Netherlands
Title Lecture
MRI depth profiling of drying alkyd coatings with different catalysts
Summary
Recently, the carcinogenicity of Cobalt based catalyst was reported. Therefore alternative catalyst systems are studied, based on Mn or Fe. This requires knowledge of influence of different catalyst on the spatial and temporal evolution of the structure of a drying coating. We have studied the chemical drying of alkyd coatings with cobalt and manganese based catalysts, using a high gradient magnetic resonance imaging (MRI) setup with a spatial resolution of 5 µm and Confocal Raman Microscopy (CRM). MRI probes the mobility of the polymers by T–2, which decreases with increased degree of cross linking. CRM was used to obtain chemical information by probing the amount of double bonds in the fatty acid side chains of the alkyd molecules. The results indicate that the CRM profiles directly corresponds with the observed MRI profiles, which indicates that MRI is a useful tool for depth profiling of coatings during chemical drying.
MRI measurements indicate that drying process of an alkyd coating is strongly influenced by the type of catalyst. In the case of cobalt a sharp cross linking front was observed, whereas no front was observed in the presence of a manganese catalyst, even at very high Mn concentration. The front formation in the presence of Cobalt indicates that the oxygen transport limits the drying process, whereas the reaction capacity of the catalyst is the limiting factor in case of Manganese.
Biography
Ir. Erich received his master degree in physics at the Eindhoven University of Technology in 2002, in the group Transport in Permeable Media. During his study he designed and built a low field 3D Magnetic Resonance Imaging (MRI) setup for different kinds of drying experiment in permeable media. Afterwards he continued his work in this group as a Ph.D. student. His research is focused on the drying behavior of coating systems, in particular alkyd coatings. To study the physical and chemical processes in these coatings he constructed a specialized high resolution NMR setup.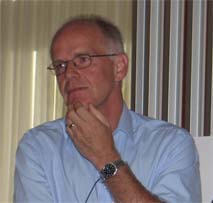 Dr. Pieter J.A. Geurink
Akzo Nobel Car Refinshes, Sassenheim, The Netherlands
Title lecture
A complete new design for waterborn 2-pack PUR coatings with robust application properties
Authors
P. Geurinka, T. Scherera, R. Buterb, A. Steenbergenb, H. Hendriksb
Summary
For over 30 years 2-Pack PUR binder systems are being used for high performance coatings in e.g. car refinish, aerospace and general industry application. Due to increasingly stringent legislative requirements, paint developments have been focused on high solids and waterborne areas. The high solids approach resulted in a number of products which are being used in the market with growing success. Waterborne (WB) products based on this technology are hardly known however: the introduction of these products in the market is hampered. This is mainly caused by the overall lower performance as a result of more critical application, drying and curing processes and the higher sensitivity for paint defects.
In this paper a new approach is presented for the paint composition design of WB 2-pack PUR coatings. New polyol-functional binder emulsions will be shown that offer a better basis for the mixing process and potlife/reactivity balance with polyisocyanate hardeners. Next to that it will be shown that with these binder systems the overall balance between appearance, potlife and curing speed can be enhanced to a very attractive level by the use of a well tuned catalyst package, allowing sufficient time for application, flow and de-aeration while offering the required fast curing characteristics as well. As a third item it will be shown how the aspects related to undesired foam formation can be managed. Finally the performance of low VOC paint compositions (e.g. clearcoat and filler), based on this new generation of WB 2-pack PUR system, will be discussed.
Biography
Pieter Geurink studied (organic) chemistry at the Free University of Amsterdam until 1978. In 1982 he received his PhD at the Free University of Amsterdam on an organo-metallic subject. In that year he jointed Akzo Nobel Coatings and started at the Car Refinishes department. In 1984 he became manager of the international product development group of Car Refinishes. In 1990 he shifted to the innovative research group of decorative coatings of Akzo Nobel. In 1992 he became manager of the technology center waterborne coatings and worked on new waterborne paint concepts for several business units of Akzo Nobel Coatings. After reorganizations in 2005 the position of Senior Scientist within the business unit Car Refinishes was obtained.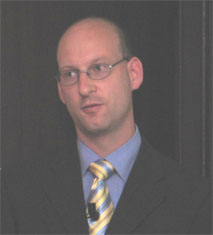 Dr. Bernd Göbelt
BYK Chemie, Germany
Title Lecture
The molecular weight distribution in living polymerization - The narrower the better?
Summary
Polymers are easily characterized by their molecular weight and the molecular weight distribution. In living anionic and radical polymerization the molecular weight distribution is influenced by the type of polymerization and the polymerization conditions yielding polymers with a broader or narrower molecular weight distribution.
In this paper/lecture the influence of the molecular weight distribution on the performance of gradient and block copolymers as wetting and dispersing additives in solvent-based and aqueous pigment concentrates and paints is discussed.
Biography
Dr. Göbelt received his PhD in organic chemistry from the university of Heidelberg. In 1999/2000 he undertook postdoctoral research with Prof. Matyjaszewski on ATRP.
In 2001 he joined Byk-Chemie. He works mainly on the development of additives with controlled radical polymerisation technologies.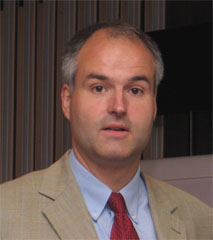 Dr. Christoph Gurtler
Bayer Technology Services, Leverkussen, Germany
Title Lecture
1K-PU Systems revisited; New insight, new blocking agents
Authors
Dr. Christoph Gürtler, Dr. Markus Mechtel, Dr. Stephan Nowak
Summary
Using a new method for the systematic investigation of coatings based on a high throughput dye extraction technology we have been able to have a closer look at catalysts and blocking agents for 1K PU systems. This multiparallel workflow with very small amounts of coating formulations (4-5 ml) uses a pipetting robot and a fluorescence assay. More than 50.000 coatings were tested within one year. We have combined this with a comprehensive computational chemistry approach towards the mechanism of 1K PU systems. This testing system and workflow provides sufficient information for a detailed structure-activity relationship consideration of blocking agents, catalysts and the chemistry involved in 1K-PU coating systems. New blocking agents and their properties will be discussed.
Discover a new blocking agent for 1K-PU systems which gives very low thermal yellowing upon overbake and shows slightly reduced curing temperatures (120-140°C) compared e.g. to dimethylpyrazole. This blocking agent was found in a multiparallel workflow with very small amounts of coating formulations (4-5 ml) using a pipetting robot and a fluorescence assay. More than 25.000 coatings were tested within one year. This testing system and workflow provides sufficient information for a detailed structure-activity relationship consideration of blocking agents in 1K-PU coating systems.
The talk will focus on recent mechanistical investigations
Biography
Dr. Christoph Gürtler studied chemistry at the University of Bonn and the Technical University of Berlin, and obtained his doctorate there in organic chemistry in 1996. After a post-doc period at the Massachusetts Institute of Technology, he was initially employed in the Central Research Laboratory of Bayer AG and then laboratory manager in the Research Section of Coatings, Adhesives & Sealants (CAS) of Bayer MaterialScience AG. He is primarily working on the development of coating isocyanates and catalysts for solvent-based and aqueous systems.
Rens Hesselmans
Title Lecture
Polycarbodiimide crosslinkers
Summary
Polycarbodiimides are very efficient crosslinking agents for carboxylic group containing polymers in water, such as polyurethanes, polyacrylates and latexes. They are an environment friendly replacement for the former frequently used polyazeridines and in particular they are non-mutagenic. A great step forward in the development of crosslinkers were the polycarbodiimides containing additional functional groups which contribute to the crosslinking. At applying the polymers in water together with these polycarbodiimides an additional inter-polymer network is formed by the additional functional groups. As a result the filmproperties, such as the film strenght, water and chemical resistance, abrasion properties, of the obtained film will be enhanced.
The latest developments are solvent-free polycarbodiimide dispersions in water, which are of particular interest when solvent free systems are required.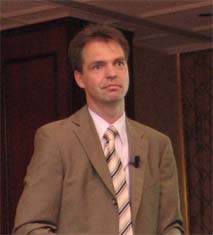 Dr. Steffen Hofacker
Bayer Materials Science AG. BU Coatings, Adhesives and Sealants, Leverkusen, Germany
Title lecture
Hybrid Coatings Systems
Summary
Inorganic coatings often produced by using the sol-gel chemistry became more and more popular in the recent years. Due to their intrisic properties like hardness, solvent and acid resistance they may be used in a very broad range of applications like coatings for the automotive industry, coatings for plastics and glass etc..Unfortunately the inorganic materials are often very brittle and difficult to apply. Also they show problems in outdoor applications regarding weatherability especially UV and moisture resistance.
On the other hand organic polymers like polyurethanes are well known as top performing coatings since a couple of decades.
The present paper will outline how a combination of both kind of coating types (inorganics as well as organics) so called hybrid coating systems can be produced and applied in different kind of coating fields.
Biography
Dr. Steffen Hofacker, born 1969 in Bad Nauheim, Germany,studied chemistry from 1989 till 1994 at the Justus Liebig University in Giessen, Germany, where he received is diploma degree.
In 1995 he changed to the Fraunhofer-Institut for Silicate Research in Wuerzburg, Germany. During this time he worked on the sol-gel synthesis, characterization and manufacture of novel hybrid color pigments. In 1998 he received his Ph.D. from the Bavarian Julius-Maximilians-University in Wuerzburg.
In the same year he joined the Bayer AG where he started in the Central Research Department before he changed in 2000 to the business unit Coatings, Adhesives and Sealants which now belongs to Bayer MaterialScience AG. There he is working in the Innovation Department and is responsible for the development of scratch resistant clearcoat raw materials as well as for the development of the oligocarbonatepolyol productline Desmophen C.
Dr. Steffen Hofacker is married and has one child.
Adrian Hofland
DSM Coating Resins, Zwolle, The Netherlands
Title lecture
Increasing the durability of wood by reactive vegetable oils
Authors
Adrian Hofland, Waldemar Homan, Boke Tjeerdsma
Summary
Traditionally prolonging the functional life span of soft wood like spruce and pine is mainly done by impregnating the wood with CCA salts (Chrome, Copper, Arsenic). Due to environmental and health reasons, the wood industry is forced to look for alternatives. DSM Coating Resins developed a reactive vegetable oil derivative as an alternative for these reprotoxic soaps. In close cooperation with SHR (Stichting Hout Research) and wood refiner Foreco the product was optimized. Next to this, SHR itself developed a suitable application technology. In May 2003, the Ecotan project was started, subsidized by the EU, with institutes, universities and industrial partners in order to make the product ready for commercialization. The paper deals with the product development, application technology and the obtained fundamental and practical results.
Biography
Following his Ph.D. in organic chemistry at the University of Amsterdam, Ad Hofland has been employed by DSM Resins since 1984, where he started working on the preparation and drying properties of waterborne alkyd paints.
In 1988 high solids alkyds were added to his scope of research and in 1990 he became R&D manager for surface coating resins. Concentrating on the subject of waterborne alkyd resins, from 1992 to 1996 he was appointed project manager of the alkyd emulsions and hybrid projects.
After completion of this project he left R&D and worked in marketing as a technical application manager for decorative and protective coating resins. Since 1998 he returned to R&D as project manager New Business Development, where he spent one year performing a feasibility study for crosslinkers in urethane powder coatings. After this Ad Hofland continued his work as senior research chemist for protective and general industrial coating resins, again focussing on the subject of alkyd emulsions.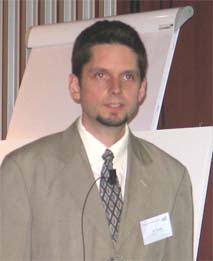 Dr. Joseph L. Keddie
Department of Physics, University of Surrey, Guildford, Surrey, UK
Title Lecture
Insights from Modern Techniques into the Film Formation of Waterborne Coatings
Summary
The process by which an aqueous polymer colloid is transformed into a continuous coating has become much better understood in recent years. This understanding has emerged from the application of new techniques of analysis with the development of new mathematical models. I will show examples of how the techniques of scanning probe microscopy, ion beam analysis, and magnetic resonance imaging have been employed as probes of film formation and final film morphology. I will also explain how new models enable the prediction of processes such as drying, particle deformation, and surfactant transport. Particular emphasis will be placed on the promise of nanoparticles with controlled structure in creating coatings with improved properties.
Biography
Dr Joe Keddie is a Reader in the Department of Physics at the University of Surrey, in Guildford, England. His research concerns the physical properties of polymers at interfaces and in colloids, using several techniques of characterisation, particularly ellipsometry (both visible and infrared), atomic force microscopy, and magnetic resonance profiling. After obtaining his PhD in materials science at Cornell University in the USA in 1992, he worked for three years as a researcher at the Cavendish Laboratory, University of Cambridge, where his research explored the glass transition at polymer surfaces and in thin films. One paper published during this time has received about 500 citations in the literature. Also while at the Cavendish Laboratory, he began using ellipsometry and environmental SEM to study latex film formation. In 2001, the Institute of Physics awarded him the Paterson Medal and Prize in recognition of his contributions to fundamental studies of polymers, and he was elected a Fellow of the Institute. Along with his collaborators, he has published more than 65 journal articles and book chapters, including a paper on crosslinking in alkyd emulsion films, which won the Roon Award from the Federation of Societies for Coatings Technology.
Prof. Byung K. Kim
Dept. of Polymer Science and Engineering, Pusan National University, Pusan
Title Lecture
Design and properties of uv curable polyurethane dispersions
Authors
B.K.Kim, B.W. Ahn, M.H. Lee
Summary
Polyurethane dispersions of various structures have been designed and synthesized based on the tpye and length of soft and hard segments, prepolymer molecular weight, and crosslinking density of polyurethane domains. This polyurethane prepolymes have subsquently been caped with hydroxy acrylates of various structures and lengths to complete vinyl terminated polyurethane prepolymers which were subjected to UV cure in the absence or presence of additional acrylate monomers of different types and functionalities to obtain AB crosslinked polymers of polyurethaneacrylates.It has been found that hardness,resistances to abrassion,scratch,and stain have possibly been tailored by controlling the urethane/acrylate composition and crosslink density in both domains. Uv cured polyurethane dispersion properly combined the advantages of polyurethane dispersions such as tack-free before cure, proper elasticity and shape retainablity allowing embossing, and versatile structure control with 0% VOC and rapid reaction of UV. Other structual properties such as stress-strain behavior and dynamic mechanical behavior have also been easily controled with UV cured dispersions.
Biography
BS/ Pusan National University(1973),Busan, Korea
Ph.D/Virginia Polytechnic Institute & State University, Blacksburg, Virginia
Professor of Polymer Science and Engineering at PNU(1988-present)
Vice Present of Korean Polyurethane Society(2004-present)
Editorial Board/J. Appl. Polym. Sci(1995-present), J. Polym. Eng(1995-present)
Authors and coauthors of over 200 technical papers in polyyrethanes, polymer blends,LC dispersions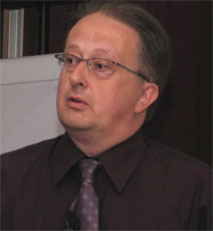 drs. Rob. P. Klaasen
Akzo Nobel Decorative Coating, Sassenheim, The Netherlands
Title Lecture
Fast drying cobalt-free high solids alkyd paints
Authors
R.P. Klaasen, R.P.C. van der Leeuw
Summary
The drying of trade sales alkyd paints at adverse conditions (e.g. 5-10°C) has always been critical. One way of improving the drying performance at lower temperatures is improving the physical drying properties of the alkyd paint. This can be achieved by using low oil length alkyds or by blending with physical drying acrylics. Unfortunately these approaches will always result in an increase in the VOC of these paints. Consequently this approach is not possible for high solids alkyd paints. Due to the low molecular nature of the used binders the drying is totally depending on the chemical (oxidative) drying reaction. As the oxidative drying will always be slower at low temperatures, an additional second-curing mechanism has been developed within Akzo Nobel Decorative Coatings.
This paper describes the development of a 1 pot fast drying alkyd system based on thiol-ene chemistry. This novel technology is based on a mixture of a polyfunctional thiol resin and an alkyd. It will be shown that by using visible light photo initiators and/or cobalt-free metal catalysts fast drying high solids alkyd paints can be developed
Biography
Rob Klaasen studied chemistry in Amsterdam at the Free University. In 1986 he joined Akzo Nobel where he started working on waterborne car refinishes systems at Akzo Nobel Resins (now Nuplex Resins).
During his employment at Akzo Nobel Coatings he worked on several automotive, industrial and deco projects.
At the moment he is a project leader for high solids and waterborne projects within the Technology Center of Akzo Nobel Decorative Coatings.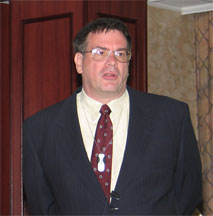 Jonathan W. Martin
National Institute of Standards and Technology
Title Lecture
Linking field and laboratory service life exposure results for polymeric materials via a reliability-based methodology: A successful case study
Authors
Jonathan W. Martin and Tinh Nguyen
Summary
Polymeric materials play important roles in the automotive, construction, and aerospace industries in enhancing appearance, functionality, and in reducing the cost and weight of the materials for which they are supplanting. Polymeric materials include coatings, sealants, plastics, textiles, and composites. With increased utilization, a growing need exists to accurately and reliably predict their service lives of polymeric materials in a timely manner (months instead of years). In 1994, NIST initiated a government/industrial consortium with the goal of placing the service life prediction problem on a solid mathematical and scientific foundation through the implementation of a reliability-based service life prediction methodology.
This consortium is currently completing its third 3-year research phase.
Accomplishments of the consortium are numerous and include 1) realignment of the missions assigned to laboratory and field exposure experiments to make the service life prediction problem solvable, 2) advances in nano- and macro- physical and chemical measurement for characterizing photodegradation, 3) the fabrication of an exposure device in which known experimental errors are largely eliminated and the primary exposure factors can be independently, accurately, and precisely controlled over wide exposure ranges, 4) the identification of a dosage model for normalizing the UV/temperature/humidity severity in both field and laboratory exposure environments, 5) establishing a linkage between dosage and physical and chemical degradation changes in both field and laboratory studies, and 6) establishing linkages between field and laboratory exposure results through verification of the reciprocity and additivity laws while assuring that the same degradation chemistry is observed.
Some of these accomplishments will be demonstrated through a successful case study.
Biography
Dr. Jonathan W. Martin is the Group Leader of the Polymeric Materials Group at NIST since 1994. He also acts as the Director of the NIST/Industry Coatings Service Life Prediction Consortium. His technical interests include the application of reliability theory and life testing analyses techniques in predicting the service life of polymeric materials and in developing informatics and high-throughput analytical measurement capabilities at NIST.
Dr. Martin was an Associate Editor of the Journal of Materials in Civil Engineering and is currently on the editorial board of the Journal of Coatings Technology. He is the recipient of an IR-100 award, the Bronze Medal and the 2004 William P. Slichter Award from the US Department of Commerce, is a recipient of the 2003 and 2004 Roon Foundation Awards, and the 2004 Federation of Societies of Coatings Technology John A. Gordon Award. Dr. Martin has over 120 publications, two patents, and has given numerous presentations both nationally and internationally. He has also co-chaired three international symposia on the topic of the Service Life Prediction of Polymeric Materials; two of these proceedings have been published in book form and the third proceedings is scheduled to be published in 2005.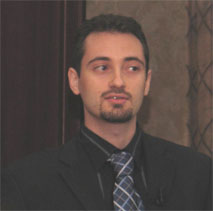 Fabrizio Micciche
Agrotechnology and Food Innovation BV, Wageningen, The Netherlands
Title Lecture
Towards biobased alternatives for VOC and cobalt in alkyd paints
Authors
E.A. Oostveen, J. van Haveren, F. Micchiche, R. van der Linde, J. Weijnen, M. Gillard
Summary
The need to minimise Volatile Organic Compound (VOC) emissions has led to substantial efforts to reduce the use of organic solvent, resulting in an increase in solids content of alkyd resin coatings and at the same time providing a change in the application viscosity. In order to reduce the environmental burden further and to promote a sustainable, CO2 neutral, economy there is also an increasing demand for alkyd paints based on the greatest possible use of renewable resources.
Besides their VOC content alkyd paints have another drawback; they contain small amounts of cobalt salts which are needed to accelerate the drying of the alkyd paints after application. Studies have indicated that these cobalt salts might be carcinogenic in aerosols. The Institute of Agrotechnology and Food Innovations BV (A&F) in Wageningen, The Netherlands, performs research into a new generation of alkyd resins which take away the disadvantages of solvent borne alkyd paints. Ultimate target is to develop an improved, high solid or waterborne alkyd resin which can be dried effectively using alternative catalysts –without using VOC's or cobalt.
In cooperation with industry the performed research in these projects, so far, has resulted into fast drying, low VOC, alkyd resins with a low intrinsic viscosity, that are completely based on renewable materials. Besides that a series of reactive diluents have been developed completely based on renewable materials, having an improved or equal performance compared to commercially available reactive diluents. In a joint project of Agrotechnology and Food Innovations with the University of Leiden and the Technical University of Eindhoven alternatives for the currently used cobalt catalysts are being developed and investigated.
At Agrotechnology and Food Innovations a biomimetic approach has been chosen to develop alternatives; naturally occurring processes have been chosen as a starting point for the developments. The mechanism by which alkyd resins are drying, resembles the mechanism of oxidation of unsaturated fatty acids in biological systems. In biological systems metal ions as manganese and iron play an important role.
First results indicate that the biomimetic approach is very successful; combinations of iron (and manganese) with the appropriate electron donating biomolecule have resulted in highly effective drying catalysts which can be applied in both solvent borne as well as water borne alkyd based paints.
Biography
Education
2000-2005 Ph.D. in Chemistry (promotion date: September, 2005) Eindhoven University of Technology, Eindhoven, The Netherlands Agrotechnology & Food Innovations B.V., Wageningen, The Netherlands
Dissertation Topic: Environmentally Friendly Alternatives for Co-based Driers in the Drying of Alkyd Based Paints (Working Title)
Research Supervisors: Prof. R. van der Linde, Dr. E. Oostveen, Dr. J. van Haveren
1994-2000 M. Sc. in Chemistry, specialization in "Inorganic Chemistry", University of Palermo, Italy, Exam Grade 110/110 (Summa Cum Laude)
Thesis Topic: New Iron and Manganese Complexes as a Model for the Active Sites of Redox Enzymes
1999-2000 Socrates Student Exchange Program Leiden University, Leiden, The Netherlands
Thesis Topic: New Iron and Manganese Complexes as a Model for the Active Sites of Redox Enzymes.
Achievements
The program exchange included participating in conferences, courses, (Structure identification and Bioinorganic chemistry) and poster presentations (See poster presentations for more details). This work resulted in 3 publications of which I was named as co-author (See publication list).
Research Supervisors: Prof. Dr. J. Reedijk, Dr. S. T. Warzeska, Dr. E. Bouwman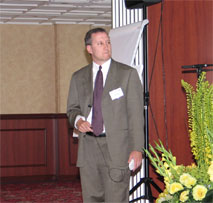 Dr. Mark Nichols
Ford Motor Company, Dearborn, USA
Title Lecture
The Weathering Behavior of UV Curable Clearcoats: Experiments and Implications
Authors
Mark E. Nichols and Christopher M.Seubert
Ford Research and Advanced Engineering
Summary
The weathering behavior of a variety of UV curable clearcoats were studied using IR spectroscopy, Raman spectroscopy, UV spectroscopy, dynamic mechanical spectroscopy, and mechanical testing. The weathering performance of the clearcoats was found to depend heavily on the presence of hindered amine light stabilizers (HALS) and very little on the presence of ultraviolet light absorbers (UVA). Microtomy experiments showed a significant gradient in photooxidation through the thickness of the clearcoat. Further experiments showed an unusually low oxygen permeability in the UV cured clearcoats as opposed to thermally cured clearcoats, which is the likely source of the photooxidation gradient in UVA-free formulations of the clearcoat. These results may allow for the design of low permeability clearcoats to protect underlying paint layers form photooxidation.
Biography
Dr. Nichols received his B.S. from the University of Michigan in 1987, his M.S. from the University of Illinois in 1989, and his Ph.D. from the University of Michigan in 1992. All his degrees are in Materials Science and Engineering. Dr. Nichols joined Ford Research Laboratory in 1992 to work on the durability of elastomers. His current research is focused on automotive coatings. Topics of particular interest in include: coating weatherability, accelerated test methods, and the fracture behavior of coatings and films. Dr. Nichols is also active in the area of emerging coatings technology for the automotive industry including the use and durability of coil applied coatings and UV cured coatings. He is currently a Technical Leader at Ford and heads the New Coatings Systems group in Ford's Materials Research and Advanced Engineering Department. He also serves as an adjunct professor of Materials Science at Wayne State University. He has published over 25 research articles, given numerous invited talks in the U.S. and Europe, and holds 5 U.S. patents.
Dr. Ralph Nussbaum
IKEA of Sweden AB, Almhult, Sweden
Title lecture
Present and future requirements on coatings - An end-user-
Summary
Health and safety aspects of surface coatings have for long been key issues within the environmental strategy of IKEA. As one of the largest retail companies in the furniture and furnishing sector, Ikea's choice of coating materials will have impact on millions of customer's world wide as well as numerous suppliers applying the coatings. In addition, the coatings shall also fulfil technical requirements such as various surface resistance tests and at the same time be cost effective. The end-customer is always in mind. IKEA has over the years, in close co-operation with paint and raw material producers, developed requirement specifications for surface coatings.
Our efforts today have the clear goal to replace solvent-borne products with water-borne and UV-technologies. Besides that, on-going research activities will probably also open up for a more extended use of powder coating technologies on wood-based substrates.
The presentation gives an overview of the technical and environmental factors that affect the surface coating strategy in the many regional areas where IKEA is working today.
Biography
Ralph Nussbaum has a Ph.D. degree in wood chemistry from the Royal Institute of Technology in Stockholm. From 1984 to 2002 he worked as project leader and section manager at the Swedish Institute for Wood Technology Research in Stockholm. His main research field has been surface interactions of wood with coatings and adhesives. Since 2003 Dr. Nussbaum is working as a wood surface coating and wood adhesive expert at IKEA of Sweden in Älmhult, Sweden.
Prof.Dr. Wim J. van Ooij
Department of Chemical and Materials Engineering, University of Cincinnati, Cininati, USA
Title lecture
Novel environmentally friendly coatings for corrosion protection of metals based on silane chemistry
Summary
A novel class of primer coatings is introduced that combines the chromate or phosphate conversion coatings of metals and chromate-containing primer coatings into a single-step water-borne system. The coatings can cure at room temperature, if required, and can be loaded with novel anticorrosive pigments. Such pigments consist of water-soluble inhibitors which have been converted into slow-release materials by a surface treatment. The major components of these primers are water-dispersed resins and organofunctional bis-silanes. Key applications are in aerospace and the automotive, galvanizing and chemical industries.
Biography
Dr. Wim J. van Ooij is a Professor of Materials Science at the University of Cincinnati (US) where has active research programs in coatings, corrosion and other fields. Previously he has held several academic and industrial positions both in Europe and the US. He has over 350 publications and 30 US patents. He was the founding editor of the Journal of Adhesion Science and Technology.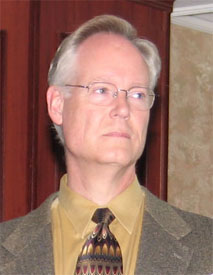 Dr. George Pilcher
Akzo Nobel Coatings Inc. USA
Title lecture
Challenge 2005 and Beyond: Recognition, Transformation and Profitable Use of Innovative Thinking
Biography
George R. Pilcher is Akzo Nobel's Technical Director of Coil and Extrusion Coatings for The Americas. He is the only American to be honored with the title of "Corresponding Member" by the Paints and Pigments Division of the Gesellschaft Deutscher Chemiker, and is also the recipient of the George Baugh Heckel Award, conferred by the Federation of Societies for Coatings Technology. In 1991, Mr. Pilcher organized and chaired the Gordon Research Conference on the Chemistry and Physics of Coatings and Films, and from 1993-1996 he served on the Advisory Board of the National Science Foundation Coatings Center, headquartered at Eastern Michigan University. Mr. Pilcher is a member of the Editorial Review Board of the Journal of Coatings Technology, and also served on the Scientific Committee of the Athens Conference. He has been an invited contributor to a wide array of international scientific symposium and conferences, and his many papers have been published in over twenty journals and three book chapters. Mr. Pilcher is the past-president of the Coatings Industry Education Foundation (CIEF), and past Chair of the Polymeric Materials: Science and Engineering Division (PMSE) of the American Chemical Society, which honored him by naming him a PMSE Fellow in 1993. In November, 2004, Mr. Pilcher delivered the Joseph J. Mattiello Memorial Address in Chicago.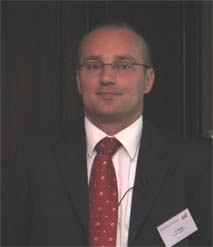 Andreas Poppe
BASF Coatings AG, Munster, Germany
Title Lecture
Scratch resistant automotive coatings - correlations between field tests and mechanical properties
Authors
A. Poppe, Hiltrup, M. Kutschera
Summary
Scratch resistance of automotive clear coats is currently tested in various different ways on the lab scale. Only few information is available on the correlations of the lab scale results with field tests. In a systematic investigation, we tested eight different automotive clear coat types with regard to their scratch performance in lab scale scratch tests as well as in field tests. In order to cover a wide range of different technologies, besides conventional 1 K and 2 K automotive clear coats, a powder clear coat, UV – cured materials, a water borne clear coat and a clear coat reinforced by inorganic nanoparticles were investigated.
Additionally, the materials were characterised concerning their physical mechanical properties by AFM, nanoindentation, microindentation and microscopy. Particular correlations of physical – mechanical properties and scratch performance are shown and discussed.
Biography
Personal Data:
Name: Andreas Poppe
Date of Birth: 28.06.69
Place of birth: Verden / Aller , Germany, close to Bremen
Military Service 1988 – 1990 Final grade: reserve officer
Education:
1990 – 1993 Study of chemistry at the university of Kiel
1993 – 1995 Study of chemistry at the university of Münster
1995 – 1999 Diploma thesis and Ph. D. thesis on Polymer Chemistry / Polymer Physics at the Research Center in Jülich ("Forschungszentrum Jülich GmbH")
1999 – 2001 Research chemist, head of a laboratory research group at the "Institut für Neue Materialien" (INM) in Saarbrücken.
Research; field: Sol – Gel technology and chemical Nanotechnology
Since 2001 Project leader in the R & D department at BASF Coatings AG, Münster - Hiltrup. The focus of the project is on extremely scratch resistant automotive OEM clear coat surfaces
Steve Rimmer
Polymer and Biomaterials Chemistry Laboratories (The Polymer Centre), Chemistry Department, University of Sheffield, Sheffield, UK
Title lecture
New functional polymers with potential in coating technologies
Summary
Recent advances in the synthesis of reactive polymers and oligomers are producing new materials with uses in many sectors, including applications of coatings technologies. The paper will cover our recent work in this area and will cover routes to new materials derived from polymerizations of vinyl monomers, acrylamides and vinyl ethers including hyperbranched polymers, block copolymers and telechelic oligomers. Firstly, we will discuss the preparation of hyperbranched polymers derived from monomers producing non-stabilized radicals, such as vinyl acetate and N-vinyl pyrrolidinone. These polymerizations produce new highly branched polymers that are also biodegradable. We will next describe our experiences with using the RAFT polymerization process and other radical transfer-type polymerizations to prepare responsive hyperbranched and block copolymers. In another route to telechelic oligomers ozone is used to cleave high molecular weight polymers in latex giving functionalized latexes. Finally, we will describe the use of ab initio cationic polymerization for the synthesis of telechelic oligo(vinyl ether)s and block copolymers. The latter process was recently introduced by us and is a new technique that yields reactive oligo(vinyl ether)s with high degrees of chain end functionality but without the stringent requirements of living polymerizations.
Kati Rissa
Tampere University of Technology, Institute of Materials Science, Tampere, Finland
Title Lecture
Effect of Kaolin content on structure and functional properties of water-based coatings
Authors
Kati Rissa, Toivo Lepisto, Kari Yrjola
Summary
The water-based coatings for paperboard were pigmented with a mixture of kaolin and ground calcium carbonate. The effects of kaolin content on morphology and gloss of the coatings were determined. Kaolin particle orientation in the coatings was measured with X-ray diffraction technique using peak ratio method, which determines the ratio of the integrated peak area intensities of the (`3`31) and (001) reflections. The gloss values and the orientation of platy kaolin particles parallel to coating surface increased with increasing kaolin content. Moreover, when measured in machine direction, gloss was higher and the orientation index lower compared to measurements in cross direction. The laser profilometer measurements indicated that the differences in machine and cross directions are related to the macroroughness of the surface.
Novel method for studying the structure of the coatings was utilized by exposing the reverse-sides of the coatings with cupriethylenediamine (CED) solution. Scanning electron microscopy studies of the reversesides of the coatings illustrated decreasing coating porosity with increasing kaolin content. CEDdissolving was utilized also for preparation of transmission electron microscopy samples. Concurrently the utilized characterization techniques complemented each other and provided information of the correlation between the functional properties and the structure of the coatings.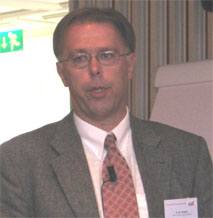 Barteld de Ruiter
TNO Industrial Technology, Department of Polymer Technology, Eindhoven, The Netherlands
Title Lecture
Two-step curing processes for coating applications
Authors
Abdelkrim El-Ghayoury, Barteld de Ruiter, Harald Hofmeier, Ulrich S. Schubert
Summary
The presentation will describe two novel two-stage cure processes, both involving oxetane chemistry.
In the first process, two UV-initiated cure steps are combined which are separated through their different polymerisation mechanisms, i.e., free-radical and cationic. Possible application areas include deformable coatings, e.g., abrasion-resistant coatings and coil coatings.
The second process refers to the combination of a covalent cross-linking (either UV or thermal) and a non-covalent, reversible, cross-linking process (through metal-ligand interaction). This could lead to a novel class of coatings with unprecedented rheological properties, with potential applications as "self-healing" coatings.
Examples of these processes will be discussed in detail.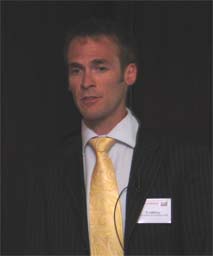 Daniel Ståhlberg
Scania CV AB, Södertätje, Sweden
Title lecture
Properties of coatings in load carrying construction
Authors
Daniel Ståhlberg, Mats Johansson
Summary
The mechanical behaviour of a coating is dependent on both the chemical and physical properties of the material as well as the type of load the sample is subjected to. One area were this is evident is the use of pre-coated metal parts in load carrying constructions, e.g bolted or screw-mounted clamping force joints. Especially in the OEM-industry are more and more details coated before they are assembled into the final product. The coating in a clamping force joint will be subjected to high compressive loads and also in combination with shearing loads. Rigid and dense coatings with excellent mechanical properties such as powder coatings have been introduced to fulfil the demands in these applications.
The present study aims to reveal which factors are of key importance when using thermoset polymers as thin films on metal substrates under very high compressive loads. The study describes how the mechanical behaviour of a powder coating is affected by the cross-link density and filler content both in tensile mode and during the use in a clamping force joint.
Dr.Ir. Paul A.M. Steeman
DSM Research BV, Performance Materials, Geleen, The Netherlands
Title lecture
Recent developments in monitoring film-formation and cure of coatings
Summary
During film-formation and curing of coatings various physical and chemical processes occur. Control over these processes is key to obtaining optimal properties of the final coating and ensuring long term reliable use. Therefore, experimental methods are required that give detailed insight into the physical and chemical changes during coating application and cure. In this paper an overview will be presented of several dynamic analysis methods, in some cases hyphenated with chemical analysis, that have been recently developed and implemented in our laboratory which enable a detailed study of the mechanisms of dyring and curing.
Biography
Dr. Steeman studied Physics at Eindhoven University of Technology and obtained his PhD at Delft University on the dielectric properties of heterogeneous polymer systems. He is an industrial researcher, working at the central research unit of DSM Performance Materials, in the field of polymer physics with special focus on viscoelasticity and rheology.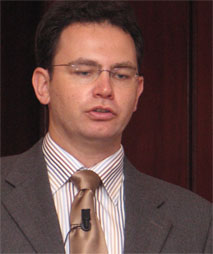 Jürgen P. Stropp
DuPont Performance Coatings GmbH & Co KG, Wuppertal, Germany
Title Lecture
UV curing systems for automotive refinish applications
Authors
H. Loffler, S. Kernaghan, J.P. Stropp, H. Thomas, U. Wolff
Summary
UV curing systems have been successfully introduced into a number of market segments such as printing inks, wood coatings and automotive OEM. Especially for automotive refinish applications UV curing is a powerful tool to enable a fast curing process and improve the productivity of the coating [1, 2, 3, 4].
Background:
The development of an UV curing refinish primer system is a new pathway for automotive refinish applications. Combined with UV curing equipment based on flash technology a high performance is reached. The UV equipment generates UV flashes in a very short interval with high intensity and energy. Also a homogenous UV light distribution is realized to cure 3-dimensional objects. This perfected procedure specially designed for spot- and micro-repair applications enables a UV curing time in less than 30 seconds. The time of the repair process can be reduced by up to 50% compared with conventional primer process. This UV refinish primer can be applied on different surfaces such as bare steel, aged coatings or plastics. It is compatible under all conventional base coats and shows good adhesion and sandability.
Analytical:
For the research and development of UV coatings the visualization of the reaction grade and speed of the UV induced radical polymerization is important. These investigations are done by FTIR-Real-Time Measurement. The skillful combination of the IR and new UV flash equipment leads to application oriented UV curing conditions. The decrease of the double bond content shows the effectiveness of the radical polymerization. To get such data in real-time during the curing it is necessary to measure in a very short scan time. Additionally the IR radiation also produced by UV sources has to be avoided. With some specially adapted equipment it was even possible to use the very intense UV flash. By varying the number of UV flashes, it is possible to determine the effectiveness of the polymerization reaction and the influence of the oxygen inhibition as a function of UV-intensity. An indication of the reaction speed is also given.
Future development:
Up to now the new UV flash curing refinish primer technology is well introduced in the European refinish market and shows good growth opportunities. In the future specialized UV refinish coatings will become established in automotive refinish applications. The challenge will be to combine the new UV light technology with various automotive refinish coatings, maintain the advantage of high productivity and offer customers an eco-efficient and environmentally compliant system.
[1] J. Muhle, T. Fey, M. Wulf, Farbe & Lack, 2003, 10, 18.
[2] W. Diener, P. Klostermann, F .J. Krumpolt, C. Kurz, K. Maag, H. U. Simmrock, W. Lenhard, Eur. Patent Appl. EP 0826431.
[3] K. Maag, H. Löffler, W. Lenhard, Eur. Patent Appl. EP 1032474.
[4] K. Maag, H. Löffler, W. Lenhard, Progr. Org. Coat., 2000, 40, 93.
Biography
Dr. Jürgen Peter Stropp, born in 1972, studied chemistry at the Friedrich-Alexander Universität in Erlangen, Germany. From 2000 until 2002 he worked on the synthesis and characterization of UV-curable silicones at the Siemens AG, Department of Corporate Technology in Erlangen, and received his Ph.D. in organic chemistry. In 2003 he joined DuPont Performance Coatings GmbH & Co. KG in Wuppertal and is responsible for the development of UV-Coatings for Refinish-Systems.
Mingwen Tian
Nanotechnolog Instruments Europe BV, The Nehterlands
Title Lecture
Coatings property analysis with AFM techniques
Michel Tielemans
Surface Specialties, Drogenbos, Belgium
Title Lecture
Colloidal stability of surfactant-free radiation curable polyurethane dispersions
Authors
Michel Tielemans, Patrice Roose, Philippe De Groote, Jean-Claude Vanovervelt
Summary
Radiation-curable polyurethane dispersions (UV-PUD's)are colloidal dispersions whose stability is mainly ensured by the electrostatic repulsion between the negatively charged polymer particles. Particle stabilization is presented in terms of the physico-chemical characteristics of the polymer dispersion and its microstructure. The phenomenon of the colloidal destabilization at higher temperature is studied by multiple light scattering, then correlated with the evolution of the particle size distributions and the measurement of critical coagulation concentrations of salt as an indication of the energy barrier at the surface of the particles. The investigation of selected chemical parameters of the polymer on the colloidal stability aims to identify the most relevant parameters with an understanding of the underlying mechanism. It highlights the new perspectives offered for the manufacture of UV-PUD's with high-end performance and extended stability & robustness. The absence of any surfactant puts the originality and the strong environmental-friendly character of these products into perspective.
Biography
Michel Tielemans was born in Brussels in 1962. He obtained a Ph.D in organic chemistry from Brussels University in 1988. In 1989, he joined UCB as a research scientist in the field of acrylic latexes and became a Group Leader. Later, he could extend his expertise in waterborne polymers with the development of polyurethane dispersions where he is still active today. His research mainly covers radiation curing coatings for wood, plastics, metal and concrete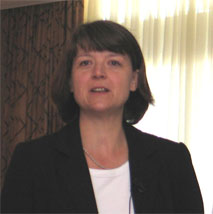 Petra Uhlman
Institute of Polymer Research Dresden, Germany
Title Lecture
Surface funtionalization by Smart Coatings: Stimuli-responsive binary polymer brushes
Authors
Petra Uhlman, Leonid Ionov, Nikolay Houbenov, Mirko Nitschke, Karina Grundke, Sergiy Minko, Manfred Stamm
Summary
Heterogeneous binary polymer brushes consist of an assembly of polymer chains of two incompatible polymers that are attached by one end to the surface with sufficient grafting density and have been investigated experimentally only for a short time. Those brushes can be used in the form of ultrathin polymeric layers as a versatile tool for surface engineering to tune physico-chemical surface characteristics as wettability, surface charge, chemical composition or morphology, and furthermore to create switchable and responsive surface properties1. For the fabrication of these layers "grafting from" (as radical polymerization at the interface) and "grafting to" (as tethering of the polymer chains from solution) methods were developed and investigated in detail.1
The amplification of the amplitude of switching (from superhydrophilic to ultrahydrophobic) by creating hierarchically structured surfaces2 will be explained as well as the creation of switchable surface structures by environmental responsive lithography3. Additionally examples will be given for the transfer of the concept of binary polymer brushes to particles, which may also have interesting perspectives for an application in the field of coatings.
[1] A. Sidorenko, S. Minko, K. Schenk-Meuser, H. Duschner, M. Stamm, Langmuir 1999, 15, 8349
[2] S. Minko, M. Müller, M. Motornov, M. Nitschke, K. Grundke, M. Stamm , J. Am. Chem. Soc. 2003, 125, 3896
[3] Ionov, L.; Minko, S.; Stamm, M.; Gohy, J. F.; Jérôme, R.; Scholl, A., J. Am. Chem. Soc. 2003, 125, 8302-8306.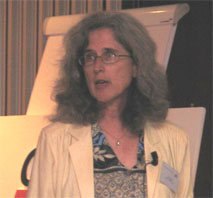 Melinda E. Wales
Reactive Surfaces Ltd. Austin USA
Title Lecture
Biocatalytic paints and coatings
Authors
C.Steven McDaniel, Jesse McDaniel, Melinda E. Wales, James R. Wild
Summary
RSL has developed OPDTOXTM, a self-decontaminating paint and coating additive that is biocatalytic in nature, and which represents a paradigm shift for chemical agent decontamination OPDTOXTM can serve either as a stand-alone decontamination method or as a complementary approach to existing decontamination techniques and products. When added to paints and coatings, RSL additives create a reactive surface that will initiate the process of decontamination immediately upon exposure to organophosphorus pesticides and neurotoxins.
Applied in advance of exposure, painted surfaces containing OPDTOXTM can continue to degrade organophosphorus compounds after repeated exposures and remain active following washing. Chemical warfare agent and surrogate tests have been conducted on metal and wood surfaces painted with commercially available latex paint containing OPDtoxtm additives. Monitoring the shelf life of RSL's OPDtox™ additive prior to formulation into a coating has shown that the additive remains relatively unchanged for months when stored as a dry powder at room temperature. In addition, monitoring the life of RSL active coatings on test surfaces indicated that the additive in paints and coatings remains active for sustained periods of time. Enzymes offer substantial advantages over chemical catalysts in a traditional industrial environment. They are biodegradable, work under mild conditions, often can provide benign alternatives to existing processes, and are not associated with the production of hazardous by-products or secondary waste.
And, with the rapidly increasing database of natural enzyme diversity, and recombinant DNA technologies, the protein modification tools exist today which will allow biocatalytic coatings to be tuned to a specific application. By tailoring enzymes for specific purposes, RSL is developing additives and mixtures of additives that have been bioengineered to exhibit increased activity and/or specificity for one or more chemical warfare agents. Similarly, RSL is investigating methods and formulations that are designed to increase the active life of the additive in paint on surfaces. While there are a large number of potential military applications for self-decontaminating surfaces, including vehicle interiors (aircraft, ground support, marine), barracks and housing, RSL's self-decontaminating technology has numerous non-military commercial applications as well, including surfaces in hospital clean rooms, community safe rooms, schools, government facilities, industrial sites, mobile decontamination facilities, and public transportation systems.
The development of cost effective, self-cleaning surfaces will mitigate contact hazards for first responders, decrease the time needed for reclamation of contaminated spaces, and minimize environmental impacts commonly experienced with caustic solutions and foams. RSL is expanding the enzyme-based additives for paints and coatings into areas that should allow for self-cleaning surfaces, mold-inhibiting surfaces, deodorizing surfaces, textile coatings, and catalytic coatings for waste stream decontamination
Biography
Melinda Wales studied Microbiology and Genetics at Texas A&M University, where she received a Ph.D. working in comparative analysis of microbial metabolic and enzymatic systems. After a postdoctoral fellowship focused on the application of molecular techniques in the analysis of enzymes, she joined the research staff at Texas A&M University working with Dr James R Wild. In 2003, Reactive Surfaces, Ltd. engaged her to help with the production scale up of its enzyme based additives, which began a collaboration working to characterize enzyme additives in paints and coatings.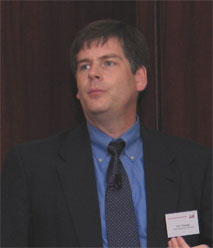 Dean C. Webster
Department of Coatings and Polymeric Materials, North Dakota State University, Fargo, North Dakota, USA
Title Lecture
Use of high throughput methods in the design of coatings having minimally adhesive surfaces
Authors
Dean C. Webster, Partha Majumdar, Abdullah Ekin, Robert Pieper
Summary
Coatings with minimally adhesive surfaces are useful for a number of applications ranging from release paper to anti-graffiti coatings, and especially for fouling-release coatings for ship hulls. Silicone rubbers can function as fouling-release coatings, however have limited durability and are mechanically weak. Linear siloxane-urethane block copolymers have shown some promise, but on constant immersion in water tend to rearrange to a more hydrophilic coating surface. Our approach has been to explore crosslinked siloxane-urethane coating systems. Crosslinking can overcome problems with surface rearrangement and the urethane component should provide toughness to the coating. In order to effectively screen the numerous variables that can contribute to the coating morphology and properties, high throughput methods have been used. Libraries of organofunctional siloxanes having varying molecular weight are synthesized and characterized. Coating formulation libraries are prepared so that formulation variables such as isocyanate composition, siloxane level, solvent, etc., can be explored. Coatings are screened for pseudo-barnacle adhesion and surface energy before and after water immersion to determine stability of the coating surface. Selected coatings are imaged using AFM to determine surface morphology. Using this approach we have been able to determine the variables that have a significant effect on properties and also identify promising compositions for further exploration.
Biography
Dean Webster is Professor in the Department of Coatings and Polymeric Materials and a Faculty Associate in the Center for Nanoscale Science and Engineering at North Dakota State University. He received a B.S. in Chemistry in 1979 and a Ph.D. in Materials Engineering Science in 1984, both from Virginia Tech. He then joined the Sherwin-Williams Company where he was involved in resin development for industrial coatings as well as long-range research in new resins and crosslinking chemistry. While in Chicago, he helped develop the Coatings Technology program at DePaul University and taught a course in coatings resin technology. In 1993, he moved to Eastman Chemical Company where he led project teams in the areas of applications development for new monomers, new chemistry for coatings systems, and polymer development for coatings. He joined the NDSU in the fall of 2001. His research interests include synthesis of high performance polymers, polymerization reactions, new crosslinking chemistry, quantitative structure-property relationships, combinatorial and high throughput experimentation and use of renewable resources in coatings.
dr. Maria Zielecka
Head of inorganic and organic silicon compounds group, department of technology development, CoC POLMATIN project co-ordinator, Industrial Chemistry Research Institute, Warsaw, Poland
Title Lecture
Silicone-containing polymer matrix as protective coating. Properties and applications
Authors
Maria Zielecka, Robert Nowakowski
Summary
The objective of this work is to examine the properties silicone-containing polymer matrix as coating materials. Fluoropolymers and acrylic resins were applied as organic component of the polymer matrix. The surface properties of protective coatings received from silicone-containing protective matrix were studied based on wettability (dynamic contact angle and surface free energy), atomic force microscopy [AFM], x-ray electron microscopy [ESCA-XPS]. Their morphology, roughness and structural regularity will be discussed to show the effect of organic component on the surface properties.
The application properties of such coatings materials were tested based on antisoilig tests, water vapour permeability, water absorption and weathering resistance (freezing, salt and uv resistance). The best results of application tests were achieved for the silicone-fluoropolymer matrix, especially as antisoiling coatings. Very good correlation of application properties of these coating materials and their surface properties such as high dynamic contact angle, low surface free energy, surface morphology was observed and will be discussed.
Biography
Dr Maria Zielecka is Assistant Professor andHead of Inorganic and Organic Silicon Compounds Group in Department of Technology Developmentat ICRI which she joined in 1979. She has been involved in the development of several technologies of new silicone products. During last years her research activities has been concentrated on synthesis and application of environmentally friendly emulsions of fluoropolymer-modified silicones for protection of building materials against undesirable graffiti paintings as well as on synthesis of silicone-containing hybrid systems for sophisticated applications. More of those technologies were commercialised during last 15 years. Dr Zielecka is Project Coordinator of EU finnaced Project: the Centre of Competence for Advanced Polymeric Materials of Industrial Importance POLMATIN. She is an active member of ICRI Scientific Council and member of two Editorial Advisory Boards of international journals: Surface Coating International Part B: Coating Transactions; Pigment & Resin Technology.