Posters COSI 2009
The Poster Session is scheduled for Tuesday 23 June 2009 18:00 - 22:00 hrs.
N. Alcón, Asociación Industrial de Óptica, Color e Imagen (AIDO) Paterna (Valencia) Spain,

Development of photoluminiscent powder coatings by UV curing process

David Álvarez Gonzalez, Dept. Ingeniería Química, Escuela de Ingeniería Industrial, Univeristy of Vigo, Spain,

Corrosion protective properties of hybrid sol-gel coatings doped with hydrotalcite particles on aluminium substrates

Indu Babu, Eindhoven University of Technology, Laboratory of Materials and Interface Chemistry, The Netherlands,

Processing and characterization of 0-3 PZT/LCR/PA composites

Massimiliano Barletta, Universita degli Studi di Roma La Sapienze, Dipartimento di Ingegneria, Rome, Italy,

Scratch resistance of transparant topcoats on carbon laminates

Denise Bellisario, Università degli Studi di Roma La Sapienze, Dipartimento di Meccanica ed Aeronautica, Via del Politecnico, Rome, Italy,

Scratch resistance of "fast-cured" metal flake powder coatings

Mark Berix, Eindhoven University of Technology, Laboratory of Materials and Interface Chemistry, The Netherlands,

Encapsulation of Clay through a dispersion polymerization

Judit Canadell Ayats, Eindhoven University of Technology,Laboratory of Polymer Chemistry, The Netherlands,

Self-healing epoxy resins based on interchange reactions

Stefano Caporali, Dipartimento di Chimica, Università di Firenze, Firenze, Italy,

Electroplated bright aluminium coatings for anticorrosion and decorative purposes

Athanasios Dimopoulos, Eindhoven University of Technology, Laboratory of Materials and Interface Chemistry, The Netherlands,

Preemptive Healing through Supramolecular Crosslinks

Christopher Eckert, Thermodynamics, IVG, Dept. of Engineering, University of Duisburg-Essen, Campus Duisburg, Duisburg, Germany, Sol-Gel deposition of multiple doped thermographic phosphor coatings AlM2O3:(M3+1,M3+2) (M1,2=Dy, Cr, Tm) for wide range surface temperature measurement application
Adolphe Foyet, Eindhoven University of Technology, Laboratory of Materials and Interface Chemistry, The Netherlands,

Through the corrosion protection of Al-2024 alloy with 1 wt% carbon black / Epikote 828-Jeffamine D230 nanocomposite coating

Tayyebeh Ghodselahi, School of physics, Institute for Studies in Theoretical Physics and Mathematics (IPM), Tehran, Iran,

Growth of Copper nanoparticles in the carbon thin films and their optical and electrical properties

Brian Hinderliter, Department of Coatings and Polymeric Materials North Dakota State University, Fargo, USA,

Nonsteady State Diffusional Processes Impact on Electrochemical Impedance Spectra

Eun-Hee Kim, School of Nano & Advanced Materials Engineering, Changwon National University, Changwon, Kyungnam, Korea,

Characterization of waterborne polyurethane for eco-friendly functional floor plate

Hans Kranenburg, Eindhoven University of Technology, Laboratory of Materials and Interface Chemistry, The Netherlands

Depth-sensing indentation and ageing of polyester coatings under UV irradiation

Alexander Kröger, University of Paderborn, Coating and Surface Technology, Paderborn, Germany,

Investigations of Melamine Nanoparticles

Jae-Young Kwon, School of Nano & Advanced Materials Engineering, Changwon National University, Changwon, Kyungnam, Korea,

Interfacial stability and contact damage resistance by incorporating buffer layer in thermal barrier coatings

Woo-Ram Lee, School of Nano & Advanced Materials Engineering, Changwon National University, Changwon, Kyungnam, Korea,

Thermal Durability and TGO growth behavior in thick thermal barrier coatings

Arturo Muñoz-Casto, Instituto Nacional de Investigaciones Nucleares, México DF,

Nitriding of 6061T6 Aluminium by Plasma Ion Implantation at low energy

Christian Pflitsch, Thermodynamics, IVG, Dept. of Engineering, University of Duisburg-Essen, Campus Duisburg, Duisburg, Germany, Sol-Gel-Deposition of thin films of TiO2: Eu3+ as thermographic phosphors
Dina Ribena, Eindhoven University of Technology, Laboratory of Materials and Interface Chemistry, The Netherlands,

Dopamine based biomimetic coatings

Sergej Toews, University of Paderborn, Coatings and Surface Technology, Paderborn, Germany

Functional block-co-polymers via the DPE route

Miroslava Topic, iThemba LABS, Somerset West, South Africa,

Effect of Annealing on Scratch Resistance and Morphology of Vanadium-Platinum Multilayer Systems

Stacy Trey, KTH Fiber and Polymer Technology, School of Chemical Science and Engineering, KTH, Royal Institute of Technology, Stockholm, Sweden,

Synthesis and Photopolymerization of Allyl Ether Functional Dendritic Polymers

Daniel Turkenburg, TNO Science and Industry, Eindhoven, The Netherlands,

Dynamic wetting properties

Pengfei Yang, Science & Technology Office, Shandong Institute of Light Industry, Jinan , China,

A new type of poly(propylene oxide) diol for polyurethane: synthesis and characterization

Te-Hui Wu, Eindhoven University of Technology, Laboratory of Materials and Interface Chemistry, The Netherlands,

Influence of curing condition on the conductivity of CB/epoxy thermoset coatings

Aike Wypkema, TNO Science and Industry, Eindhoven, The Netherlands

The influence of plasma pretreatment on the adhesion of textile coatings
N. Alcón
Asociación Industrial de Óptica, Color e Imagen (AIDO) Paterna (Valencia) Spain
Title poster
Development of photoluminiscent powder coatings by UV curing process
Authors
N. Alcón, A. Tolosa, M.T. Rodríguez, C. Moreno
Abstract
Keywords: Safety sings, UV curing, photoluminiscent, powder coatings
Introduction
The use of thermal curing powder coatings have obtained a wide acceptance, but is limited to the metal substrates applications, because they need high temperatures for the film curing. Safety sings in edifications use, generally, PVC substrates, that are unable to support typically curing temperatures (150°C ~ 200°C). In this work we developed a new formulation of photoluminiscent powder coating by UV curing for application on heat sensitive substrates, used in emergency safety sings.
Experimental
Coatings were formulated using unsatured polyester resin; photoinitiator and photoluminiscent pigment based on strontium aluminate (SrAl2O4). In order to perform their application on PVC substrates benzoine and flux agent were added to the mixtures. Samples were pre-mixed and hand-shacked until good pre-mixing was afforded. After that, the material was extruded in a double screw extruder, grounded in ultra-centrifugal mill and sieved at 100 µm. After the application by spray gun, the powder was melted in oven and then curing was done with UV lamp. Photoluminiscent safety sings are characterized by luminance and decay time. According to DIN 67510, Table I showed the results obtained.
Table I. Luminance versus time values and decay time.

Conclusions
New photoluminiscent powder coating cured by UV radiation has been formulated. This combining of properties makes possible the application on thermoplastic substrates. Moreover, offer important advantages over liquid coatings because VOC reduction.
Acknowledgments
This work was supported by I+D+I National Program from the Ministry of Education and Science (project CTQ2005-08099-C03-03/BQU) and from de Ministry of Science and Innovation (project PET2007_0361).
References
Castell, P.; Wouters, M.; Fischer, H.; De With, G. "Kinetic studies of a UV-curable powder coating using photo-DSC, real-time FTIR and rheology", J. Coat. Tech. Res., 4, 4, (2007), 411-423.
Maetens, Daniel, "Advanced UV powder coatings", Finishing Today, 82, 10, (2006), 26-29.
Bastani, Saeid; Moradian, Siamak, "UV-curable powder coatings containing interpenetrating polymer networks (IPNs)", Prog. Org. Coat., 56, 2-3, (2006), 248-251.
Boncza-Tomaszewski, Z.; Penczek, P.; Bankowska, A., "Photocationic-curable powder coatings" Surface Coatings International Part B: Coatings Transactions, 89, 2, (2006), 157-161
David Álvarez Gonzalez
ENCOMAT Group, Universidade de Vigo, Campus Universitario 36310 Vigo, Spain
Title poster
Corrosion protective properties of hybrid sol-gel coatings doped with hydrotalcite particles on aluminium substrates
Authors
D. Álvarez, A. Collazo, M. Hernandez, X. R. Novóa, C. Pérez
Abstract
Hydrotalcite-like compounds which are anionic clays were prepared by classical co-precipitation method using magnesium and aluminium nitrates as precursors [1]. The aim of this work is to study the effect of the incorporation of hydrotalcite (HTCP) in hybrid sol-gel coatings applied on 2024-T3 aluminium alloy substrate, as substitution of chromate conversion coatings. Different weight percentages of hydrotalcite with Mg/Al ratio of 2.5 was added (1 and 5 % wt.) to hybrid sols prepared using 3-Glycydoxypropyltrimethoxysilane (GPTMS) and tetra-n-propoxyzirconium (TPOZ) as precursors. Hybrid sol-gel coatings were deposited by dip coating method on AA2024-T3 substrates. Using Scanning Electron Microscopy (SEM) it is possible to see HTCP agglomerates embedded in the coating formed during the deposition process (figure. 1). The size of these agglomerates varies from nanometres to micrometers. The physicochemical properties of the doped sol-gel coatings were studied using X-ray diffraction (XRD), infrared spectroscopy (IR) and differential scanning calorimetry (DSC) techniques. The protective properties were evaluated by Electrochemical Impedance Spectroscopy (EIS). Figure 2 depicts the corrosion resistance improvement at higher weight percentages of HTCP. The combination of different physico-chemical properties such as alkaline pH, lamellar morphology and anion exchange capacity seems to be the main mechanisms for delaying the direct access of the agressive ions to the metallic substrate through the coating porosity.

Figure 1:SEM micrograph of a 5 wt. % HTCP doped hybrid sol-gel coating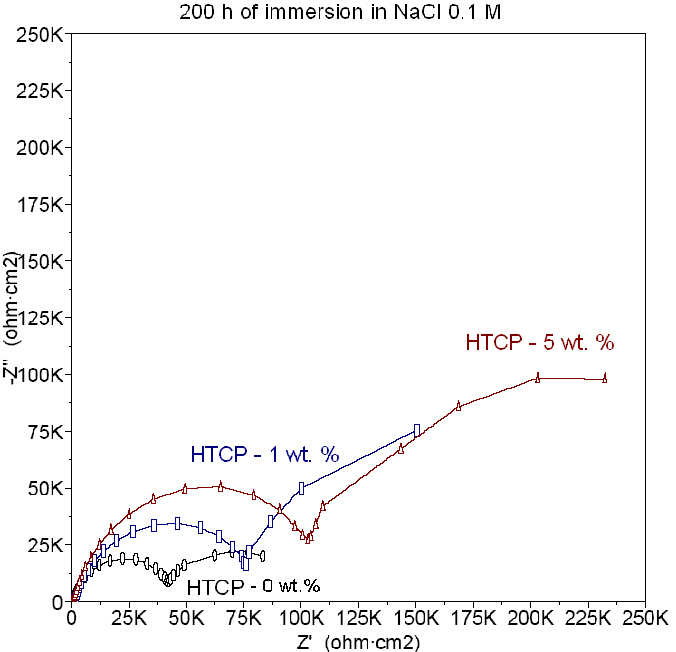 Figure 2: Nyquist plots obtained for doped hybrid sol-gel coatings after 200 h immersion in NaCl 0,1M
Indu Babu
Eindhoven University of Technology, Laboratory of Materials and Interface Chemistry, The Netherlands
Title poster
Processing and characterization of 0-3 PZT/LCR/PA composites
Authors
Indu Babu & Bert de With
Abstract
Sensors and actuators based on piezoelectric ceramic-polymer composites, so-called smart materials, offer high potential for high tech systems. These composite materials offer superior performance over the conventional pure ceramics in good elastic compliance, durability and shown great promise for the use in sensing and actuating applications. These smart materials are optimized for special applications and the demand of these materials had been subjected to extensive research from the past three decades. The general aim of this project is to develop a flexible piezoelectric composite with good ductility and high temperature stability for sensing applications using novel materials based on incorporating polyamide into PZT/LCR composites. Even though the newly developed PZT/LCR composite show excellent high temperature stability, the ductility of these composite was poor. To overcome this limitation and to process a flexible composite, polyamide (PA, Nylon 11) is incorporated and a new series of composite (PZT/LCR/PA) is developed. The influence of a semiconductor phase (carbon nanotubes) in the PZT/LCR/PA composite is also studied.
Prof.Dr. Massimiliano Barletta
Università degli Studi di Roma Tor Vergata, Dipartimento di Ingegneria Meccanica, Roma, Italy
Title poster
Scratch resistance of transparent topcoats on carbon laminates
Authors
Barletta M., Bellisario D., Rubino G., Ucciardello N.
Abstract
The application of low-curable powder paints on epoxy-carbon laminates is the matter of the present investigation. Carbon laminates were first peened to corrugate their surface and allow a better adhesion of the overlying coatings. Powder coatings were electrostatically sprayed onto peened and unpeened substrates and baked into a convection oven and their aesthetic and tribological performance was comparatively evaluated. Powder coated carbon laminates onto peened substrates exhibited well adhered coatings with good visual appearance as well as noteworthy scratch resistance and tribological performance.
Denise Bellisario
Univesita degli Studi di Roma La Sapienze, Dipartimento di Meccanica ed Aeronautica, Rome, Italy
Title poster
Scratch resistance of "fast-cured" metal flake powder coatings
Authors
D. Bellisario, M. Barletta, N. Ucciardello
Abstract
The economy of bilayer powder coatings with metal flakes is remarkably influenced by the curing procedure, which involves a time consuming baking step in convective oven after the deposition of each layer. Significant savings can be achieved accelerating the baking process by IR pre-curing the outermost layers of the basecoat and following this with a oven-baking of the whole coating system. In the present investigation, the IR pre-curing process of the basecoat was analyzed by studying the influence of the IR radiation intensity and exposure time on the scratch resistance of the coating varying the contact load and speed of the scratching indenter.
Dr. Judit Canadell Ayats
Eindhoven University of Technology, Laboratory of Polymer Chemistry, The Netherlands
Title poster
Self-healing epoxy resins based on interchange reactions
Authors
J. Canadell, H. Goossens, B. Klumperman
Abstract
Cross-linked polymers such as epoxy resins are engineering materials widely used in industry for applications such as encapsulation of microelectronics, adhesives, coatings, etc. They typically have superior mechanical properties, solvent resistance and improved thermal stability. However, damages in the material are irreversible, unless a self-healing mechanism is introduced.
We describe the preparation of a covalently cross-linked epoxy resin that shows repeated self-healing after a fracture or a cut with a near 100% recovery of modulus, elongation at break and tensile strength upon exposure to moderately elevated temperatures. The key element of this self-healing concept is found in the exchange reaction of covalent bonds that take place across the damaged surfaces.
Attenuated total reflectance-Fourier transform IR (ATR-FTIR) and Raman spectroscopy were used to study the polymerization process. Rheology experiments were used to investigate the visco-elastic behaviour of the materials. Healing efficiency was quantified using a tensile tester through the evaluation of the elongation-at-break of healed samples. The synthesis, characterization and remarkable self-healing properties will be presented.
Stefano Caporali
Dipartimento di Chimica, Università di Firenze, Firenze, Italy
Title poster
Electroplated bright aluminium coatings for anticorrosion and decorative purposes
Authors
Stefano Caporali, Licia Barchi, Ugo Bardi, Andrea Scrivani
Abstract
Aiming to the substitution of chromium for anticorrosive and decorative purposes, we investigate the possibility to use electrodeposited aluminium layer as protective coatings on metallic structures. Aluminium owes its corrosion resistance from its ability to form a natural oxide film on its surface that greatly reduces the corrosion rate. Aluminium can be electroplated from non-aqueous solutions, and chloroalluminated based ionic liquids proved to be among the most suitable electroplating media. However, the deposits obtained from such solutions are rough and non brilliant, making these coatings unsuitable for decorative purposes. In the in the present paper we show that bright aluminium coatings can be obtained at room temperature, adding 1-10 phenantroline to the 1-butyl-3-methyl imidazolium heptachloroaluminate solution plating solutions. We coated carbon steel substrates (UNI Fe360B) and gave proof of their enhanced corrosion resistance via electrochemical tests (potentiodynamic polarization curves, open-circuit potential and electrochemical impedance spectroscopy) in 3.5% NaCl aqueous solution. Finally, in order to test the usefulness of such techniques with real industrial items, we plated car wheel bolts and compared their corrosion resistance against the traditional nickel-chromium coatings that were used as benchmark. Their corrosion resistance was investigated by means of electrochemical techniques and free corrosion tests carried on in salt spray cabinet.
Dr. Athanasios Dimopoulos
Eindhoven University of Technology, Laboratory of Materials and Interface Chemistry, The Netherlands
Title poster
Preemptive Healing through Supramolecular Crosslinks
Author
Athanasios Dimopoulos
Abstract
In general thermoset materials with only covalent cross-links, used as coatings, are able to relax stresses, caused e.g. from solvent loss or substrate bending, to a limited extent by network chain segment mobility (above or shortly below the glass transition temperature (Tg)). Failure can occur as a result of these stresses (cracking, delamination). In this study we describe materials in which some of the cross-links have been replaced by dimers of quadruple hydrogen bonding ureido-pyrimidinone (UPy) moieties, which act as reversible cross-links. Materials based on mixtures of ε-caprolactone and L-lactic acid, and containing different ratios of covalent and UPy dimer cross-links, were synthesized and their thermal and mechanical properties were tested by Differential Scanning Calorimetry (DSC) and Dynamic Mechanical Analysis (DMA). The presence of reversible cross-links results in superior relaxation of stresses even below Tg, as witnessed by the creep and stress relaxation behavior. These properties bode well for potential applications, e.g. in coatings technology.
Christopher Eckert
Thermodynamics, IVG, Dept. of Engineering, University of Duisburg-Essen, Campus Duisburg, Duisburg, Germany
Title poster
Sol-Gel deposition of multiple doped thermographic phosphor coatings AlM2O3:(M3+1,M3+2) (M1,2=Dy, Cr, Tm) for wide range surface temperature measurement application
Author
Christopher Eckert, Christian Pflitsch, and Burak Atakan
Abstract
A promising method of measuring surface temperatures under challenging conditions is the use of thermographic phosphor coatings. Thereby the surface temperature is evaluated from the phosphorescence decay lifetime following a pulsed laser or flash lamp light excitation. Depending on the used dopant, single doped M3+:α-Al2O3 (M=Cr, Dy, Tm) emit at 694 nm (Cr3+), 488 nm (Dy3+), 584 nm (Dy3+), and 459 nm (Tm3+). However, the accessible temperature range with a single dopant is limited: for Cr3+-transition from 293 K up to 773 K, and for the Dy3+ and Tm3+ -transitions both from 1073 K up to 1473 K. In the present study a new approach is followed to extend theses limitations by co-doping two dopants basing on the sol-gel method and the dip-coating of α-Al2O3 thin films. For that application, (Dy3++Cr3+) co-doped thin α-Al2O3 films and (Tm3++Cr3+) co-doped α-Al2O3 films with thicknesses of 4-6 μm were prepared, and the temperature-dependent luminescence properties (emission spectra and lifetimes) were analysed after pulsed laser excitation in the UV (355 nm). The phosphorescence lifetime as a function of temperature were measured between 293 K and 1473 K. A considerably extended range for surface temperature evaluation was established following this new approach by combining different dopants on the molecular level.
Dr. Adolphe Foyet
Eindhoven University of Technology, Laboratory of Materials and Interface Chemistry, The Netherlands
Title lecture
Through the corrosion protection of Al-2024 alloy with 1 wt% carbon black / Epikote 828-Jeffamine D230 nanocomposite coating
Authors
A. Foyet, T-H. Wu, L. van der Ven, A. Kodentsov, G. de With, R. A. T. M. van Benthem
Abstract
The aluminum alloy 2024 used in aircraft companies contains many intermetallic inclusions dispersed in the aluminum matrix. The corrosion performance is usually improved by the formation of an oxide layer (chromate conversion layer) on the surface, by the application of an organic coating on the surface or by the combination of both. The control of corrosion based on organic coatings is mainly provided by three systems: the electrochemical inhibitors, sacrificial coatings and barrier coatings. Chromate pigments are usually included as an electrochemical inhibitor while sacrificial coatings (such as zinc rich epoxy) prevent discharge of current from the metal to the electrolyte by the electrical attachment of a less passive anode. The chromate pretreatment becomes less attractive because of the environmental impact of chromium. The alternative to this method may come from the application of a conductive nanocomposite coating. Epoxy composites with a high carbon black (CB) concentration exhibited good electrical and thermal stability [1], which can make them attractive as primers for corrosion protection. Apart form the anticorrosion properties a composite containing carbon black can be used as a material for applications such as electromagnetic shielding, heat and radiation and as a material for batteries, where electrical conductivity and / or thermal conductivity are required [2].
The aim of this work is to compare the corrosion performance (on Al-2024) of the epoxy / amine clear coating with its nanocomposite analog containing 1 wt% carbon black nanoparticles. The ac conductivity of the nanocomposite will be discussed. Electrochemical Impedance Spectroscopy was used to monitor the coating resistance after several months of immersion in a 0.5 M NaCl aqueous solution. The result can be helpful to understand the mobility of water and charge carrier in the nancomposite coating and to improve the long-term stability of the epoxy nanocomposite / aluminum alloy interphase. This is the preliminary step through the investigation of charge transfer at the conducting (with a carbon black percolation network) nanocomposite alloy interphase. A conducting nanocomposite may prevent the cathodic corrosion reaction to occur only at the coating / alloy interphase. Oxygen reduction may occur in the conducting nanocomposite coating as well. In this case, the rate of coating delamination will be reduced if its adhesion to the substrate is good enough.
References
F. El-Tantawy, K. Kamada , H. Ohnabe, Materials Letters 56 (2002) 112.
Shinichi Kawasaki, Masahiro Yamada, Kana Kobori, Fengzhe Jin, Toshikazu Takata, Polymer composite (2008) 1.
Tayyebeh Ghodselahi
School of physics, Institute for Studies in Theoretical Physics and Mathematics (IPM), Tehran, Iran
Title lecture
Growth of Copper nanoparticles in the carbon thin films and their optical and electrical properties
Authors
T. Ghodselahi, M. A. Vesaghi, A. Shafiekhani, M. Ahmadi
Abstract
Nanoparticle copper/carbon composite films were prepared by Co-deposition of RF-Sputtering and RF-PECVD method from acetylene gas and copper target. By variation of chamber initial pressure from 1.3 to 6.6 Pa nanoparticles copper/carbon composite films consist 2% to 97% copper were grown. Samples contain two groups, very thin films (v) and thin films (T) for study of the optical and electrical properties respectively. The surface Plasmon resonance peak (SPR) of the copper cores was observed in visible spectra. By increasing Cu content in these films a nonmetal- metal transition is observed for the samples of group T. The variation of optical spectra and electrical resistivity by aging was investigated. It is indicated that optical and electrical properties of group T don´t vary by passing time but one that of group V vary by passing time. We related this variation to oxidization of copper nanoparticles in samples of group T.
Brian Hinderliter
Department of Coatings and Polymeric Materials, North Dakota State University, Fargo, USA
Title lecture
Nonsteady State Diffusional Processes Impact on Electrochemical Impedance Spectra
Authors
Brian R. Hinderliter and Stuart G. Croll
Abstract
Coatings are often employed to prevent, or at least delay corrosion onset of a metallic substrates with Electrochemical Impedance Spectroscopy (EIS) being a quantitative technique to rank the coating´s success in this endeavor. A barrier topcoat is designed to be an impediment to environmental water and its entrained ions reaching the substrate. The infiltration of water and ions into the coating can be measured by electrochemical impedance spectroscopy (EIS), often applying the Brasher-Kingsbury formulation for estimating water volume uptake. EIS is also a technique for detecting electrochemical reactions at the underlying metal interface, corrosion. The coupled response due to coating changes along with metal interfaces makes interpretation difficult in many cases. Adding to these nearly static conditions, at least over the timeframe of an EIS spectral measurement, coatings can continue to imbibe water and oxide layers on the metal grow. If the timescale of these transient processes, coupled with their impact on the on the electromagnetic material properties, the overall EIS spectra can contain a time-dependent component. The measurement of EIS is most often accomplished by the use of an aqueous electrolyte solution as the electrical contact to the top of the coating, with the metallic substrate used as the other electrical contact. The use of an aqueous solution is likely to result in transient behavior of the coating substrate system as water infiltrates the coating, changes the coating and as water and ions change the substrate, eventually approaching saturation. This portion of our work will define pseudoinductance, the decrease of the impedance at low frequencies, in terms of diffusional properties of the coating and the distribution of water within the coating.
Dr. Eun-Hee Kim
School of Nano & Advanced Materials Engineering, Changwon National University, Changwon, Kyungnam, Korea
Title lecture
Characterization of waterborne polyurethane for eco-friendly functional floor plate
Authors
E.H. Kim, Co-authors: W.R. Lee, S.W. Myoung, J. P. Kim, Y.G. Jung, Y.S. Nam, and W.S. Kyoung
Abstract
Three types of nonmetallic mineral particles (CaCO3, TiO2, loess) were incorporated with waterborne polyurethane acrylate (PUA) to increase surface property of eco-friendly floor plate. Properties of PUA contained nonmetallic mineral materials were measured by FT-IR, DMTA, swelling test and contact angle measurement. With decreasing the molecular weight between crosslinks (variation of molecular weight of polyol), modulus and glass transition temperature (Tg) of PUA film are increased due to the increment of crosslinking density. Resistance properties such as swelling and contact angle against water are enhanced with the addition of nonmetallic mineral materials owing to the increase of hydrophobic property in polymer matrix.
Dr. Hans Kranenburg
Eindhoven University of Technology, Laboratory of Materials and Interface Chemistry, The Netherlands
Title lecture
Depth-sensing indentation and ageing of polyester coatings under UV irradiation
Authors
J. M. Kranenburg, P. Malanowski, R. Hoogenboom, U. S. Schubert, L. G. J. van der Ven, R. A. T. M. van Benthem, G. de With
Abstract
Due to the localized nature of testing, depth-sensing indentation (DSI) is a suitable tool to investigate mechanical properties of coatings. This technique can also be used to study materials not related to coating-technology. DSI is very helpful if only small amounts of material are available for testing and the number of samples to be studied is large, as is usually the case for high-throughput experimentation (HTE). For HTE, the facile automation of the technique is very convenient.
The principles of DSI and important experimental considerations are reviewed. Selected applications of this technique in high-throughput experimentation and coating technology are shown, as well. In a high-throughput study, the elasticity of copoly(2-oxazoline)s was investigated and related to the chemical structure of the copolymers. Moreover, the effect of the monomer distribution over the copolymer chain and the effect of humidity were investigated. DSI was also applied to study the ageing of aromatic polyester coatings under UV irradiation. The changes in mechanical properties could be correlated to polar groups formed in the material during photodegradation. Photo-crosslinking may constitute an additional, smaller cause for the change in mechanical properties. These applications demonstrate the versatility and suitability of DSI for material science and coating research.
Alexander Kröger
University of Paderborn, Coating and Surface Technology, Paderborn, Germany
Title lecture
Investigations of Melamine Nanoparticles
Authors
Alexander Kröger, Jörg Ressel, Björn Weber, Wolfgang Bremser, Karl Hiltrop
Abstract
Actual scientific efforts in coatings concentrate on employing nanoscale materials or nanoparticles for improvement of mechanical properties of organic coatings. In addition to topical nano materials such as SiO2-, TiO2- and ZrO2-based systems we found that hexamethoxymethylmelamine (HMMM) can be used as primary building unit for flaky nanoparticles [1]. Synthesis is based on acid-catalyzed condensation of given methoxy functional groups of HMMM at 80 °C. The solid content varies between 5 and 30 %. Particle growth leads to particles of 50 – 100 nm in size and is directly related to the amount and type of acid utilized. The particle size was determined by dynamic light scattering and resulting particles were investigated by SEM, TEM and AFM. pH sensitive stability of the HMMM particles is accomplished by cathodic stabilization which was determined by zeta potential measurements. After a period of time the formation of a thermo reversible gel is observed. This effect lasts for about 24h before irreversible gelation occurs. To improve application properties we successfully tried to stabilize the particles by employing polyethyleneimine. Following we were able to increase the solution pH to 9,5 without coagulation. Presently our efforts concentrate on introducing the particles into conventional coatings. Here we already found tendencies for improved hardness and scratch resistance at retained flexibility.
Weber, B.; Bremser, W.; Hiltrop, K., Prog. Org. Coat., 2009, 64, 150
Jae-Young Kwon
School of Nano & Advanced Materials Engineering, Changwon National University, Changwon, Kyungnam, Korea
Title lecture
Interfacial stability and contact damage resistance by incorporating buffer layer in thermal barrier coating
Authors
Jae-Young Kwon, Sung-Il Jung, Jae-Hyun Lee, Yeon-Gil Jung, Ungyu Paik
Abstract
A buffer layer was introduced between the bond and top coats in air-plasma sprayed (APS) zirconia (ZrO2)-based thermal barrier coating (TBC) system, to improve contact damage and interfacial stability. The indentation stress-strain behavior and Hertzian contact damage were investigated with thermal cyclic exposure at 1,210 °C, with dwell times of 1 h for 25 cycles and 10 h for 5 cycles. The microstructure is relatively continuous in the TBC system with the buffer layer, showing Zr, Ni, Cr, and Mg elements between the top and bond coats, whereas the Zr element is suddenly disappear by passing the interface between the top and bond coats in the TBC system without the buffer layer. The TBC system with the buffer layer shows less strain than that without the buffer layer in the higher stress regions above about 1.3 GPa, while both TBC systems become soft by forming the top coat in the lower stress regions compared with the substrate. The TBC systems with the buffer layer show the lower stress-strain curves than those without the buffer layer in the thermal exposure with the relatively short dwell time of 1 h, showing the reverse trend with the relatively long dwell time of 10 h. Subsurface damage in substrate is reduced at both indentation loads of P = 500 N and P = 2,000 N by incorporating the buffer layer, independent of thermal exposure condition. The damage zone formed in the TBC system without the buffer layer increases with increasing exposure time, while the damage does not extend far in the case of the TBC system with the buffer layer. In fracture under contact environment, cracking or delamination are developed between the top coat and the buffer layer in the TBC system with the buffer layer, whereas the fracture created at interface of bond coat and substrate. These evidences indicate that the buffer layer is more efficient in protecting the substrate from contact environments than that without the buffer layer and the buffer layer enhances the damage resistance of the TBC system.
Woo-Ram Lee
School of Nano & Advanced Materials Engineering, Changwon National University, Changwon, Kyungnam, Korea
Title lecture
Thermal Durability and TGO growth behavior in thick thermal barrier coatings
Authors
Sung-Il Jung, Jae-Hyun Kim, Jae-Young Kwon, Yeon-Gil Jung, Sang-Wook Wee, Sung-Churl Choi, Ungyu Paik
Abstract
The thermal durability with thermal cyclic exposure in thermal barrier coating (TBC) systems with thick TBC of about 2 mm has been investigated at T = 1,210, with dwell time of 100 h, including the effects of bond coat nature on the adhesive strength and TGO growth behavior. TBC was plasma-sprayed on two different bond coats with different compositions and particle size, of which microstructural evolution was observed with the thermal exposure. Porosity and pore size distribution were measured with the thermal exposure, and the effects of porosity in the TBC on mechanical properties such as hardness and toughness were observed, including the adhesive strength before and after the thermal exposure. The nominal pore size of as-prepared TBC system is 14.8% with a bi-modal distribution, which is dramatically reduced with increasing thermal exposed time, especially for smaller pore size below 1 μm. The harness and toughness values are gradually increased to 800 h and then saturated above thermal exposed time, without effect of the bond coat nature. The adhesive strength values of the TBC system with bond coat prepared by broad particle size distribution (nominal value of 6.6 MPa for as-prepared sample) are higher than those by narrow one (nominal value of 5.8 MPa for as-prepared sample) in all ranges tested. The adhesive strength values after the thermal exposure suddenly increases in both TBC system and then saturated after 400 h, showing irregular and regular TGO formation at interface of the bond and top coats for the broad and narrow particle size distributions, respectively. The effects of porosity decrease and bond coat nature on mechanical properties of hardness, toughness, and adhesive strength, and the TGO formation behavior have been discussed extensively.
Arturo Muñoz-Castro
Instituto Nacional de Investigaciones Nucleares, México DF
Title lecture
Nitriding of 6061T6 Aluminium by Plasma Ion Implantation at low energy
Authors
R. López-Callejas, H. Millán-Flores, A. E. Muñoz-Castro, R. Valencia-Alvarado, A. Mercado-Cabrera, R. Peña Eguiluz and S. R. Barocio, A. de la Piedad Beneitez
Abstract
It is not easy, in general, to improve the mechanical properties of aluminium alloys by traditional nitriding methods. By contrast, plasma immersion ion implantation (PIII) is successfully used for hardening and the wear resistance improvement. The present work sets out to investigate de formation of AlN on 6061T6 aluminium samples by the PIII process at low energy (2-6 keV) with ion doses in the order of 1018 ions/cm2 and from nitrogen-argon mixtures at different concentrations (N70-Ar30, N50-Ar50 and N30-Ar70) maintained a ~400 °C sample temperatures. The outcome was evaluated by X-ray diffractometry, scanning electron microscopy, Vickers microhardness tests and profilometry.
Christian Pflitsch
Thermodynamics, IVG, Dept. of Engineering, University of Duisburg-Essen, Campus Duisburg, Duisburg, Germany
Title lecture
Sol-Gel-Deposition of thin films of TiO2: Eu3+ as thermographic phosphors
Authors
Abdelkader Nebatti, Christian Pflitsch, Christopher Eckert, Burak Atakan
Abstract
Titanium oxide films are widely used in several industrial applications due to their interesting physical properties. However, it is further known that rare-doped oxides often show phosphorescence properties, which makes them useful as a thermographic phosphor coating for surface temperature measurement. For this application, europium (III)-doped titania (TiO2: Eu3+) thin films were grown in the present study and their temperature-dependent luminescence properties were analyzed. The films were prepared by the sol-gel method using dip coating technique and the luminescence properties were subsequently analysed. It was observed that only the doped anatase phase shows reproducible luminescence. The excitation and the emission spectra indicate that the red characteristic emission (617 nm) of TiO2: Eu3+ occurring after UV excitation due to electric dipole transition is the strongest. For this transition the temperature dependency was measured after UV excitation with a pulsed Nd:YAG laser (355 nm). It turned out that the decay time constant of the nearly exponential emission decay shows strong temperature dependency in the range from 200 °C up to 350 °C. The results demonstrate that anatase doped europium (III) can be considered as a thermographic phosphor coating, which is useful for measuring surface temperatures between 200 °C and 350 °C. This is an interesting additional feature of the deposited films.
Dina Ribena
Eindhoven University of Technology, Laboratory of Materials and Interface Chemistry, Eindhoven, the Netherlands
Title lecture
Dopamine based biomimetic coatings
Authors
D. Ribena*, N. A. J. M. Sommerdijk, L. G. J van der Ven, G. de With
Abstract
Adhesion is a physico-chemical surface phenomenon. Physical properties of the adhesive joint depend strongly on the character of the substrate surface and how the adhesive interacts with the surface.1 It is challenging to produce adhesives that are applied from a low-viscosity solution and form durable bonds in wet environments. Adhesive materials inspired by marine mussels are attractive in this respect. These organisms anchor themselves to surfaces by secreting a liquid adhesive based on mussel adhesive foot proteins (Mefps) that harden and form water-resistant bonds within a few seconds.2 The amino acid 3,4-dihydroxyphenylalanine (DOPA) is present in Mefps and contributes remarkable adhesive properties, forming strong chemical interactions with organic and inorganic surfaces.3
The aim is to study the poly-dopamine interaction with a substrate by using different application procedures. Grafting of modified dopamine derivatives as the synthetic analogue of DOPA onto surface can be accomplished using two basic strategies. The graft-from approach relies on in-situ polymerization of dopamine from a grafted initiator (Figure 1).



Figure 1: Graft-from approach
The graft-to approach consists of surface adsorption of pre-synthesized fatty acid dopamine. These systems are formed through physisorption or chemisorption of from aqueous solution (Figure 2).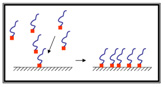 Figure 2: Graft-to approach
The graft-from approach has been employed to study poly-dopamine coatings on mica, glass and gold. When dip coated for 4 h from aqueous dopamine hydrochloride solution in alkaline pH then XPS results implied that the coating is derived from dopamine polymerization on all the substrates in less than 10 nm of thickness. Additionally, PM-IRRAS and static mode water contact angle data indicated that the chemical structure of poly-dopamine layer differs depending on the substrate used for the coating as dopamine polymerization proceeds via several oxidation states and molecular rearrangements. (Figure 3).4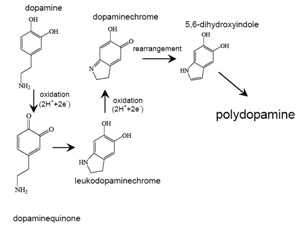 Figure 3: Possible structural evolution and polymerization mechanisms of dopamine (2-(3,4-di- hydroxy- phenyl)ethylamine)
There are uncertainties and difficulties for analyzing the poly-dopamine structure on a substrate. Therefore the graft-to approach is applied in which dopamine modification was performed before the application on the substrate. For this reason N-stearoyldopamine has been synthesized which will be investigated in the near future.
Acknowledgements
The authors would like to thank the Dutch Polymer Institute for a financial support.
References
M. Wiegemann, Aquat. Sci., 2005, 67, 166-176
M. Guvendiren, P. B. Messersmith and K. R. Shull, Biomacromolecules, 2008, 9, 122-128
H. Lee, N. F. Scherer and P. B. Messersmith, PNAS, 2006, 103, 12999-13003
H. Lee, S. M. Dellatore, W. M. Miller, P. B. Messersmith, Science, 2007, 318, 426-430
Sergej Toews
University of Paderborn, Coating and Surface Technology, Paderborn, Germany
Title lecture
Functional Block-co-Polymers via the DPE Route
Authors
Sergej Toews, Nora Pollmann, Oliver Seewald, Wolfgang Bremser
Abstract
The radical polymerization in the presence of 1,1-diphenylethylene provides an easy, inexpensive and environmental friendly way to obtain functional block-co-polymers for a variety of applications. The main investigations in mechanistic understanding have been provided by Viala et al. [1-3] However, the experiments were limited to a small number of monomers such as Acrylic Acid( AA), Methacrylic Acid (MMA) and Styrol (Sty). In this work the use of a broad variety of functional monomer such as Vinylphosphonic Acid (VPA), Vinylsulfonic Acid (VSA), Triethoxyvinylsilane (TEVS), Maleic Acid (MA) as well as Acrylic and Methacrylic derivates was successfully investigated. You can adjust the properties of your dispersion by the right choose of the monomeric compounds. E.g. using VPA as a monomer dispersions are obtained being stable over a pH-range from 1-14. Adding 5% TEVS to the monomer mixture result in dispersions with 1/3 of the particle size (30-40 nm) than the dispersions without a silane functional monomer. Furthermore the synthesis procedure was reduced to a one pot two step routine without use of any surfactants. This self emulsifying, water based route to a variety of functional polymer dispersions is easily to adjust for industrial applications in coatings such as mechanical properties, corrosion protection or easy-to-clean. The experiments were carried out under control of the particle size and particle size development by means of dynamic light scattering (DLS) and by means of Scanning Electron Microscopy (SEM). The incorporation of the functional monomers was analyzed by NMR-Spectroscopy.
S. Viala, K. Tauer, M. Antonietti, I. Lacik, W. Bremser, Polymer, 2005, 46, 7843
S. Viala, M. Antonietti, K. Tauer, W. Bremser, Polymer, 2003, 44, 1339
S. Viala, K. Tauer, M. Antonietti, R.-P. Krueger, W. Bremser, Polymer, 2002, 43, 7231
Dr. Miroslava Topic
iThemba LABS, Somerset West, South Africa
Title lecture
Effect of Annealing on Scratch Resistance and Morphology of Vanadium-Platinum Multilayer Systems
Authors
M. Topic, G. Favaro, C. Pineda-Vargas, C.I. Lang
Abstract
It is well known that physical and mechanical properties play very important role in applications of platinum and platinum alloys in variety of industrial fields. Besides the bulk materials, our research interests were focused on coated systems and their applications where the surface properties are of crucial importance.
We investigated the multilayered structures of platinum and vanadium subjected to elevated temperatures. In order to study the annealing effects on scratch resistance and coating morphology several complementary techniques were employed. The scratch resistance was determined using nano-scratch tester while the coating morphology has been studied by scanning electron microscopy and nuclear microprobe technique. The phase analyses of the annealed systems were performed using the X-ray diffraction. The experimental results show that the coating morphology and roughness depends on coating thickness and they are significantly affected by annealing temperature. It has also been found that the annealing improved the scratch resistance and adhesion properties of both single and multilayer vanadium-platinum coated systems. A greater scratch resistance of annealed coatings is attributed to formation of several vanadium rich phases.
Dr. Stacy Trey
KTH Fiber and Polymer Technology, School of Chemical Science and Engineering, KTH, Royal Institute of Technology, Stockholm, Sweden
Title lecture
Synthesis and Photopolymerization of Allyl Ether Functional Dendritic Polymers
Authors
Stacy M. Trey, Camilla Nilsson, Eva Malmström, and Mats Johansson
Abstract
The aim of this research is to reveal the effects of molecular architecture and functionality on the curing performance and final properties of the allyl ether functional dendritic polymer based networks. Allyl ether dendritic resins have been photopolymerized either together with thiols or homopolymerized by themselves. Even though allyl ether-thiol polymers have a host of reasons why they are favourable for production in comparison to current coatings, their lack of toughness has impeded this progress. Dendritic polymers, including hyperbranched molecules, have long been known to enhance toughness and lower internal stresses in materials, even in additive amounts.
Studies have been performed on UV polymerization of allyl ether functional dendrimers with two commercially available trithiols to form thiol-ene crosslinked films. The systems were characterized in terms of conversion, thermal and physical properties. The results showed that although much slower, the homopolymerization of the allyl ether groups occurred to a significant extent for the highly functional dendritic resins. It was furthermore found that the allyl ether dendrimers, photopolymerized in absence of thiols, homopolymerized at 30-50% conversion of allyl ether groups thus leading to free standing films containing a large amount of unsaturation available for further surface modifications. From this knowledge, we have examined the conversion and thermal properties of homopolymerized films of different allyl ether functional dendritic polymers and successfully post-modified the surfaces by various methods.
Daniel Turkenburg
TNO Science and Industry, Eindhoven, The Netherlands
Title lecture
Dynamic wetting properties
Authors
Daniel Turkenburg, Mariëlle Wouters
Abstract
Many theories exist that describe the behavior of a fluid droplet at rest on defined (structured) materials. In practice one would also like to know how to optimize flow of droplets over a surface. Tuning of the dynamical properties is important for many applications ranging from hydrophobic coatings (i.e. water repellent textiles, anti-icing) to lyophilic coatings (for example for lubricating surfaces).
We compared multiple low-surface-energy substrates of varying roughness, using confocal microscopy and thorough static and dynamic contact angle analysis. The key parameters defining the dynamics of oil droplets moving over surfaces are identified. Important parameters are:
Volume of the voids of rough substrates
Polar component of total surface energy of coating and fluid
Contact angle hysteresis
Finally we suggest a model, based on these key parameters, that can be used to design a surface that matches the desired liquid flow behavior.
Pengfei Yang
Science & Technology Office, Shandong Institute of Light Industry, Jinan , China
Title lecture
A new type of poly(propylene oxide) diol for polyurethane: synthesis and characterization
Authors
Pengfei Yang, Xuwei Zhu, Tianduo Li
Abstract
Poly(propylene oxide) diol is an important material in polyurethane industry, and its preparation via anionic polymerization has been intensively investigated in many aspects. When reacting with isocyanate, different types of hydroxyls, such as in alcohol and in phenol, show different chemical properties, which lead to a wide variety of performance in polyethers. However, most commercial polyethers are synthesized with symmetrical configuration and contain only alcoholic terminal hydroxyl. Few investigations were focused on asymmetrical polyethers with different hydroxyl. We describe a method for the preparation of asymmetrical poly(propylene oxide) diol with self-made potassium 4-(benzyloxy)benzyl alcoholate as initiator. One end of polymer chain is alcohol hydroxyl, the other end is phenol hydroxyl (synthetic route showed in Scheme 1). It was characterized by Infra-Red Spectrum (IR) and Proton Magnetic Resonance (1H NMR). 1H NMR Peaks at δ1.11, δ3.38, and δ3.53 are attributed to side groups (-OCH2CH(CH3)-), one backbone units (-OCH2CH(CH3)-), and the other backbone units (-OCH2CH(CH3)-) of polyether, respectively. Molecular weight and molecular weight distribution were also measured by 1H-NMR and Laser Light Scattering (LLS). Finally, its carbamate reaction with phenyl isocyanate was studied, and the reaction rates for different types of hydroxyl were given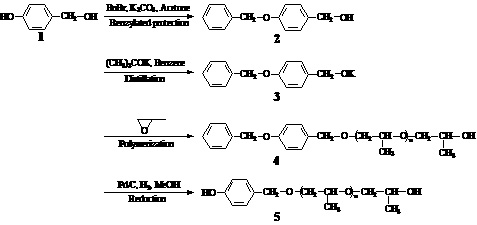 Scheme 1 Synthetic route of asymmetrical poly(propylene oxide) diol
Te-Hui Wu
Eindhoven University of Technology, Department of Chemical Engineering and Chemistry, Laboratory of Materials and Interface Chemistry, Eindhoven, the Netherlands
Title lecture
Influence of curing condition on the conductivity of CB/epoxy thermoset coating
Authors
T. H. Wu*, A. Foyet, A. Kodentsov, L.G.J. van der Ven, R.A.T.M. van Benthem, G. de With
Abstract
Carbon black (CB) is widely used as a functional filler in organic coatings in improving the electrical conductivity properties. With increasing particle concentration, the conductivity of CB / polymer composite can be tuned and reaches conductor level when the particles form a percolated network in the matrix. This critical concentration is known as the percolation threshold.
Many factors which may affect the formation of percolated network have been proposed: degree of dispersion, surface energy, particle size and sharp etc. Among them, the use of dispersant / surfactant has been verified to retard the percolation and decrease the conductivity by covering the particle´s surface. In our work, CB/ epoxy coatings (0.125, 0.375, 1 vol %) without adding any additive were prepared. DSC results showed that the glass transition temperature (Tg) of composite coatings were higher than unfilled one. Furthermore, by simply changing the curing conditions, the coating conductivity and microstructure can be varied. This may provide an approach to obtain high conductivity coating with low volume fraction of particles.
Aike Wypkema
TNO Science and Industry, Eindhoven, The Netherlands
Title lecture
The influence of plasma pretreatment on the adhesion of textile coatings
Authors
Marcel Simor, Aike Wypkema
Abstract
The lecture presents results and the discussion of experimental work focussed on the effects of plasma pretreatment of polyester (PET) fabric on the adhesion of polyurethane(PUR)- and polyvinylchloride (PVC) based coatings.
An innovative, atmospheric pressure plasma technology, so-called Surface Dielectric Barrier Discharge (SDBD), has been applied to the polyester fabrics. The technology uses a low temperature plasma process that can remarkably enhance material performance. Low temperature plasma is created when a gas is exposed to a high electric field, which energizes the gas to a point where some electrons become free and the gas turns into a mixture of electrons, ionized atoms and molecules, residual neutral species, and radiation. This mixture behaves as a very chemically active environment, which is achieved at near room temperature, and which enables the creation of well-controlled and reproducible processing conditions. Several plasma treatments were compared:
plasma activation in nitrogen;
plasma activation in nitrogen and water vapour;
plasma activation in carbon dioxide;
plasma polymerization of acrylic acid in a mixture of nitrogen and acrylic acid vapour.
After the plasma pretreatment, the fabrics were conventionally coated either with a hot-melt polyurethane coating or with a liquid PVC coating, both cured afterwards by infra-red heat. Just 5-second-short plasma activation resulted in a remarkable increase in the adhesion of the coating. SEM, XPS and ATR FTIR analyses of the plasma treated samples were used to detect differences in the morphology and chemical composition of the surface of the fabric before and after plasma treatment.